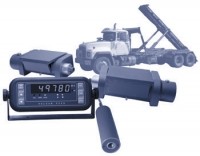 These on-board weighing systems are designed for all types of refuse and recycling applications on vehicles with spring, air, or mixed suspensions. Applications also include front loaders, roll-offs, transfer trucks and trailers, rear loaders, side loaders, and container carriers.

Vulcan's on-board roll-off scale features electronics designed to simplify customer use. The system typically provides accuracy within one percent of gross vehicle weight.

The V300 meter, part of the complete system, displays gross vehicle or net payload weights, alerting the driver to unsafe and overloaded situations. The system provides information to allow the maximization of each load, and to determine the lowest cost location for off-loading. An optional V600 meter can record net daily payloads, and print individual load tickets. The Vulcan roll-off scale uses shear pin load cells for the rear hinge, and a hydraulic sensor on the lift cylinders for suitability to both retrofits and new vehicles.