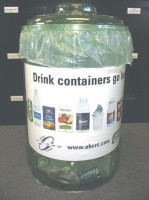 Acro recycling bins are constructed entirely from 100 percent recycled plastic (about 7.5 pounds of PET recycled pop bottles per bin). These economical, lightweight, durable recycling bins use 0.040-inch thick plastic on the outside with a 21-inch diameter and are more than 30 inches deep inside (35 inches tall with lid).

Units weigh less than six pounds each and capacity is about six cubic feet (they will hold around 150 uncrushed PET bottles). Additionally, these bins are see-through transparent green so it is easy to see when they are full and helps eliminate contamination. Units are also entirely recyclable where facilities exist.

Acro bins can be easily and quickly assembled for use and disassembled for storage, and feature two flat surfaces of 23 inches by 16 inches on opposing sides for signage. These areas can be moved into one large area, or under special request, removed altogether. Units fit 36-inch by 56-inch polyethylene bags/liners.

Acro recycling bins are ideal for school or municipal recycling programs, or anywhere lightweight, see-through, easy to use recycling bins would be beneficial.