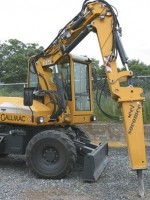 Gallmac Tool Carriers, manufactured in Italy, are designed to do the work of several machines. Units can be used in various applications including as an excavator (using standard attachments), front end loader, material handler, crane, man-lift, trenching machine, or a brush cutter.

Gallmac machines are very compact with zero tail swing, and feature excellent reach due to their three-piece boom system, and three steering modes.

EEI Socomec hydraulic breakers (shown here on a Gallmac unit) and also manufactured in Italy, include the model DMS breaker (at 135-1,630 pounds). The DMS is built with a solid monoblock made from through-hardened steel, no tie rods, and only two moving parts for easy repair. Cylinders are sleeved and units are quiet, with low vibrations due to polyurethane insulation.