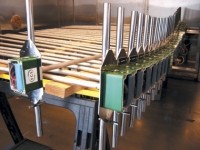 Engineered Compost Systems recently redesigned their RF Tele-probe (wireless transmitting temperature probe) using advancements in MESH radio technology. The new Teleprobes operate either on a Point-to-Point (RF Teleprobe to RF Master Receiver), or through one or more repeater MESH nodes, and the Teleprobe extended line-of-sight operating distances are now one kilometre.

The ECS RF Teleprobe measures compost pile temperatures at two depths, then transmits and stores the data, along with teleprobe battery strength and identification counter, to a non-volatile memory. The RF technology goes "to sleep" when it isn't communicating; it is quick to reboot (in case of power loss); and, does not lose data. ECS estimates the Teleprobe's battery life will easily exceed three years in service, and the Teleprobe's robust design is intended for outdoor use and exposure to the elements on a continuous basis.

The RF Teleprobe system can function either as a standalone data acquisition platform, or it can be integrated into a realtime control system, such as the ECS CompTroller.