Heil launches $6.4 million expansion project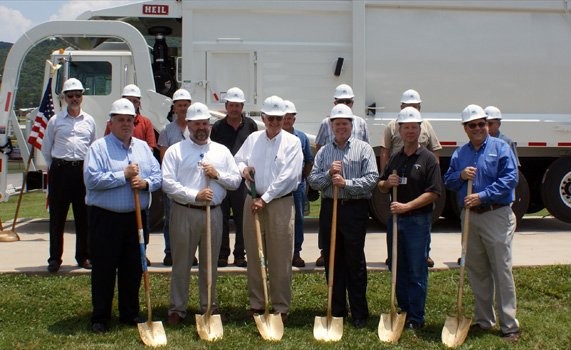 Heil Environmental recently announced it will enhance the manufacturing capabilities at its Fort Payne, Alabama facility with a $6.4 million plant expansion project.
According to the company, the project, which began June 18, includes process and equipment improvements that will result in an estimated 95 percent improvement in cycle time. Plus, the larger plant footprint will provide additional space for Heil's Parts Central replacement parts business to grow, as well as new office space, break rooms, and locker facilities for plant employees.
"The primary goal of this investment in our Fort Payne manufacturing facility is to attain increased capacity, which will accommodate planned future growth," said Randy Brown, Vice President of Sales & Marketing for Dover Corporations' Environmental Solutions Group, Heil's parent company.
"Shortening lead times, while improving our manufacturing efficiency, will provide long-term value for our customers, channel partners, and all Heil Environmental employees. This will be a significant competitive advantage for our organization as we consistently look for ways to better service our customers."
Heil considered the local economy and sustainability as key factors in choosing the architect and contractor for this project. Fort Payne architecture firm, Alan L. Williamson, Architect and Associates, has been selected as the architect and design firm for the renovations, and Chattanooga-based P&C Construction Inc. has been selected as the general contractor.
"It was important to us to support the immediate community as we embarked on this project," said Anthony Henson, Heil's Director of North American Mobile Refuse Operations. "The suppliers and subcontractors who will be providing products and services for our project will be stimulating the local economy with their efforts which, in turn, will help keep Fort Payne on the leading edge of the economic upturn."
"We greatly appreciate the opportunity to help Heil Environmental grow in Fort Payne," commented Alan Williamson, the architecture firm's president. "We share Heil's commitment to design excellence and quality construction. The new office addition and renovation is designed to be the community's first LEED-certified office building and demonstrates Heil's leadership role in sustainable design and improving the environment. With the addition to Parts Central and the mount shop, we will provide the foundation for continued growth and success. We see it as an occasion to start building a better tomorrow – today."
Leadership in Energy & Environmental Design, or LEED, certification was developed by the U.S. Green Building Council. This internationally recognized green building certification system provides third-party verification that a building was designed and built to deliver energy savings, water efficiency, reduced CO2 emissions, and improved indoor environmental quality, as well as to demonstrate stewardship of resources and sensitivity to their impacts.
According to Henson, Heil sees the goal of attaining LEED certification for the facility improvements as a very visible way to support the company's long-standing commitment to green initiatives.
"LEED certification for the office and plant area improvements will enable Heil's Fort Payne operation to become the flagship facility for sustainability within the Environmental Solutions Group (ESG)," said Henson. "Because Heil Environmental is a cornerstone of ESG, it is very important that we demonstrate to our customers, employees, and community our commitment to the environment and long-term sustainability."
The project's general contractor, P&C Construction Inc., is a full-service firm, offering pre-construction planning, design, building construction, and facilities management services to customers throughout the southeast. In 2008, the company was listed among the top 100 construction companies in America; and, in 2009, they were listed as #25 of the Top 100 Native American-owned businesses in the United States. Mr. Michael Brown, LEED AP, will serve as Project Manager for the construction phase. An official groundbreaking ceremony was held in June at Heil's Fort Payne facility.
The plant expansion project is scheduled to be completed before the end of 2010.
Heil Environmental
www.heil.com
Company info
2030 Hamilton Place Boulevard, Suite 300
Chattanooga, TN
US, 37421

Website:
heil.com
Read more