Bio-treatment system
For golf course wastewater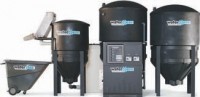 Water Maze recently introduced a WaterStax Golf Course Package, a modification to the company's advanced bioremediation system, called the CLB BioSystem, for treating wash water generated by golf courses.

The new WaterStax Package includes several components for handling high organic content in wash water, such as grass clippings, leaves and other greenery. Included in the package are the Hydroscreen for separating grass clippings out of cleaning water and a specially designed cart for disposing grass-laden water typically found in golf course wash bays.

The Water Maze system uses advanced bio-technology with aerobic bacteria to control odour and cause a degradation of Total Petroleum Hydrocarbons (TPH), herbicides, insecticides and pesticides (HIPs). The microbes from Water Maze's proprietary BioStax 900 bioremediation solution are certified by the American Type Culture Collection (ATCC) as gram positive, pathogen-free, Class-1 organisms.

The BioSystem also integrates into its operation the patented Air Stick, which raises the dissolved Oxygen content of wastewater, maximizing bacteria digestion.

The high-density, polyethylene CLB tanks are extra-resistant to chemical fatigue and ultraviolet exposure, and have a unit volume of 600 gallons. Plus, cone-bottom CLT tanks have a 60-degree slope to enhance the settling and removal of suspended solids in the wastewater.

Other innovations of the BioSystem include: a time-controlled purge system that automatically removes sludge and flushes the system with treated water for easy maintenance; a high-output UV ozone generator that polishes water in the recycle systems; a 3/4 hp circulation pump which increases microbial digestion; an optional stainless steel Hydroscreen that separates grass clippings and deposits them in a grass cart for easy disposal; and an optional grass cart for easy handling of grass clippings.
Company info