Anti-abrasion powder
For grinder/shredder parts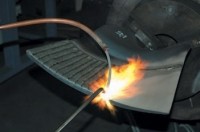 In industries that use heavy-duty parts for mixing, grinding, or other techniques that subject the tools to significant wear and tear, anti-abrasion protection is imperative. Replacing these parts can be costly and time-consuming, slowing production and reducing quality of results. Technogenia, a manufacturer of hardfacing products, has developed a special tungsten-carbide powder known as Spherotene that, when deposited on the tool's surface, provides exceptional anti-abrasion solutions for various fields. The incredibly strong carbide particles are applicable by a welded-on cast-nickel cord, thermal spray, special castings, or precision laser, providing almost 10 times longer service life than with a more traditional chrome-carbide hardfacing.

The tungsten-carbide hardfacing forms a metallurgical bond with the base metal on the part to protect against wear and impact. The Spherotene powders consist of spherical particles of monocrystaline tungsten carbide that are extremely hard, between 1,800 and 4,000 HV (Vickers Hardness). The applicable cords, Technosphere and Technodur, are reels of flexible, nickel-core wire coated with Spherotene. These two types differ in carbide hardness and are available in diameters ranging from 0.1 to 0.5 inches to be welded to parts with an oxy torch for achieving the desired degree of anti-abrasion and impact protection.

The powders can also be applied as a thermal spray, using an oxy torch. The Technokit 2000 is available for this hardfacing method, which is useful for thin application, glassworks industries, or even to serve as a rust-inhibiting undercoat.

Technogenia also has a method for hardfacing hard-to-reach areas of parts with complex shapes and inner diameters where conventional welding techniques would not work. Known as Technocasting, this technique is similar to foundry methods, where a hard solder is combined with the tungsten-carbide and then injected into a mould. Ideal for parts involved in ceramics or cement works industries, it maintains a very smooth surface and is suitable for short runs of parts.

For precision application on very small areas, such as along a thin edge, Technogenia's Lasercarb technique provides optimum results. The carbide grains are combined with a metal binder and injected into a laser beam using a coaxial injection nozzle. The mixture's application is digitally controlled for an extremely close deposit with a smooth finish, leaving the shape of the part being treated practically unchanged. This method is particularly recommended for parts made of non-magnetic steel, such as in the oil drilling industry. The Lasercarb technique has been licensed in the United States since 2002.