Hazardous waste remediation market to reach $16.6 billion by 2011 – recycling segment growing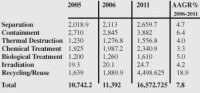 According to a new technical market research report, "The Global Market for Hazardous Waste Remediation" (RE-152) from BCC Research, the global market for hazardous waste remediation technologies was worth about $10.7 billion in 2005, and will rise to $11.4 billion in 2006 and $16.6 billion by 2011 at an average annual growth rate (AAGR) of 7.8 percent.

Hazardous waste containment technologies were the largest segment of the global hazardous waste remediation market in 2005, with over 25 percent of the market, followed by separation (19 percent), chemical treatment (18 percent), and recycling (15 percent).

However, recycling is the fastest growing market segment, with a projected AAGR of 19 percent, reaching almost $4.5 billion, approximately 27 percent of the market, by 2011. With almost thirty patents in as many years coupled with the fact that many remediation processes result in recyclable material, the substantial growth rate for reuse technology is highly probable.

Hazardous waste remediation is not only an ecological issue but an economic one. The design of equipment as well as the distribution of goods and services represent a multi-billion dollar industry, generating profit for investors, shareholders, and employees with personal interest.

The Global Market for Hazardous Waste Remediation report is available from BCC Research for approximately $4,250, and provides the following: characterizes the current hazardous waste remediation market, in quantitative as well as qualitative terms; describes existing and new remediation technologies that are under development to meet market requirements; identifies segments of the hazardous waste remediation market with the greatest commercial potential in the near to mid-term; discusses and, where possible, quantifies the major drivers of demand for hazardous waste remediation equipment, supplies and related services; forecasts future demand for different types of hazardous waste remediation technologies to 2011; and analyzes the structure of the hazardous waste remediation industry, including number, size, and financial performance of firms.