On-board software
For haulers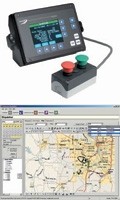 Routeware's hardware and software system enables haulers to increase profitability and improve both operational efficiency and customer service. The on-board DMS3000 combines with Routeware BackOffice to replace all paper-based scheduling, dispatching and collection methods.

The Routeware system is like having a route auditor in every truck, according to the company's Web site. Using actual field data, users can analyze profitability and track driver efficiency, all within one seamless, easy-to-use system. DMS3000 units are installed in each collection vehicle in a fleet, including roll-offs, commercial front loaders, residential recycling trucks, and residential automated side loaders.

Routeware then installs its client/server application, Routeware BackOffice, on the client's network via a dedicated server. The server contains the following Routeware BackOffice components: an SQL database; Route Processor, an application that prepares files sent to, and received from the DMS3000; and Communication Services which monitor and direct data flow from the DMS3000 to Routeware BackOffice.

Finally, Routeware BackOffice Client is installed on each office computer that requires access to the data. Using real field data, the DMS3000 zeroes in on route productivity and efficiency. Through the use of an on-board computer and Routeware BackOffice software, the DMS3000 can help users reduce unnecessary data entry, capturing missed revenues, and streamlining report generation.

Users can track driver location and activity, automate entry of weight and fuel slips, and manage routes, stop by stop. Route information can be sent and received directly to and from the truck in a yard using an 802.11 wireless system – standard on every model. The DMS3000 also features GPS, one-button customer locator, and text messaging. An optional cellular data modem can provide two-way transmission in real time. The system is ideally suited to commercial and multi-family front-load, roll-off, and residential garbage and recyclables.

When the fleet leaves the yard to runtheir routes, drivers interact with the unit primarily through the Pounder Box – two large buttons within easy reach of the driver. One button (green) signifies a standard pickup; the other button (red) signifies that the driver has skipped the pickup. The DMS3000 also records extra pickup items, offline times (e.g. lunch breaks, trips to the landfill), and a range of other information, including GPS coordinates, mileage, and route time, stop by stop.

When the trucks return to the yard, the actual route data is downloaded and stored in the database. Using Routeware BackOffice (Client), your staff can view the data, run reports, draw maps, and study the route from a broad range of different perspectives not previously available under the paper-based system – all within a matter of minutes.