Recyclable flooring
Easy to use loose lay tiles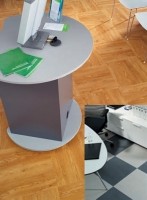 Tarkett recently announced a new ReUse Reclamation program, which allows architects, designers and dealers the opportunity to recycle Tarkett carry boards, chip boxes and architectural folders, to reduce or eliminate material deposited into landfills. To recycle sample sets, customers simply pack materials in the self-addressed box, seal with clear packing tape and mail to Tarkett's recycling centre, located outside of Birmingham, Alabama. Tarkett architectural folders and carry boards may also be returned with postage pre-paid so that no additional cost is incurred by Tarkett customers. "Tarkett's goal is to make prudent use of available natural resources and develop new ways to become even more environmentally responsible," said Gilles de Beaumont, president of Tarkett Commercial of North America. "As we continue to take a leadership role in protecting the environment, Tarkett is extremely proud to be the first resilient flooring manufacturer to reclaim samples." At the recycling centre, the returnedmaterials are collected, separated into bins and recycled into future Tarkett flooring or sample vehicles. One hundred percent of the returned materials are recycled. Additionally, the carton materials and box are manufactured with 100 percent recycled materials and are printed with soy-based ink. From container to contents, everything is recycled back into future products.

In addition to Tarkett's ReUse Reclamation Program, the company ensures that all products and processes are designed with conservation and environmental impact in mind. Further, Tarkett products may help contribute up to seven potential Leadership in Energy and Environmental Design (LEED) points. Tarkett Commercial adhesives have no emissions, thus reducing the level of VOCs. Additionally, Tarkett homogeneous sheet and tile can be maintained in most situations with dry buffing, reducing the amount of water and chemicals used during the cleaning process. The products' long life (20 to 30 years) also reduces the need to replace the flooring, which saves material, energy and money.

Through their program, the company provides end-users with a clear bag to return unused material to Tarkett facilities for recycling at no cost to them. Additionally, several Tarkett manufacturing facilities are partially fuelled by scrapped wood, which provides a source of renewable energy.

Throughout the production process, materials are internally recycled in a closed-loop process, ensuring that no material is wasted. In fact, some Tarkett products contain both post-industrial and post-consumer recycled content.