Portable screens
For excavators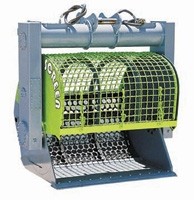 E80 and E130 Excavator FlipScreens are truly portable screening plants for handling materials in construction, C&D, earthmoving, mining, quarrying and other areas of industry where sizing is required.

The E80 Excavator FlipScreen is suitable for 20- to 27.5- ton (18.5 to 25 metric tonne) excavators and is ideal for contractors wanting to maximize productivity.

The E130 is suitable for 27.5- to 33- ton (25 to 30 metric tonne) excavators and can screen over 200 tons of material per hour. Any size mesh can be fitted to the FlipScreen and units are easily interchangeable – requiring only one man and no tools.
Company info