Vertical baler
High density unit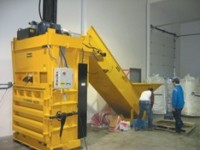 Harmony S60XDRC High Density Vertical Balers use a conveyor-fed automated rear loading chute and are ideal for applications where an extra large feed chute opening is not required. The S60XDRC is designed as a cost effective, space saving alternative to horizontal balers.

The rear feed chute opening on the S60XDRC measures 22 inches by 48 inches in cross section, which is big enough for conveyor feeding materials like plastic bottles, metal cans, newspaper and office paper. Larger sized materials like cardboard boxes can be hand-fed through the front loading door.

These balers are designed with a bigger hydraulic cylinder and motor than a conventional vertical baler. The result is heavier bale weights, usually only achievable by a more expensive horizontal baler. The S60XDRC will make a 60-inch by 30-inch, by 51-inch bale of newspaper and office papers weighing up to about 1,500 pounds, corrugated cardboard up to 1,250 pounds, plastic up to 1,000 pounds, and aluminium cans up to 600 pounds.

The S60XDRC also has a "Torque Tube," which is a unique system for maintainining even loading on the platen. This aids in protecting the hydraulic cylinder from uneven forces if the material in the baling chamber is not uniformly distributed. Without a Torque Tube, uneven forces can result in premature wear.

Bale ejection of the extra dense bales is by dual hydraulic chain ejectors, with seven slots for tying off the bales. A 20 hp motor is standard equipment, as is a "Bale Made" light. Also standard are retractable "bale dogs" to assist in retaining material in the baling chamber, and in turn help to increase bale density and uniformity.

All Harmony balers come with the interlock safety feature which allows the feed door to be opened only when the platen is fully retracted. Units built for Canada have a C-UL approved control panel and are la-belled accordingly.