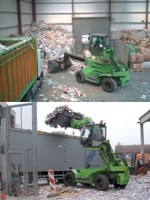 The green line 305 Multihandler C Series is the world's first telehandler with a hydraulic hi-rise operator's cab with an eye level of 13.3 feet (4.0 metres). Units are able to reach a lifting height of 24 feet (7.3 me-tres). This unique machine also offers a real maximum load-bearing capacity of just over 11,000 pounds (five tonnes) and is outfitted with a 100 hp (75 kW) diesel engine. According to company representatives, the idea behind the 305 was to improve visibility while offering greater manoeuvrabil-ity within a compact, ergonomic design. "Now that we have the dealers, the areas, along with the parts and service support we needed in place, we are thrilled to offer a machine like this in North America," said Constantino Lannes, President of SENNEBOGEN North America.

The 305 Multihandler measures 15.7 feet long (4.8 metres), 8.2 feet high (2.5 metres) and 8.1 feet wide (2.48 metres), and features the ability to raise and lower the cab. Units are equipped with all-round visibility, an ergonomically designed workstation, joystick control and an adjustable steering column.

The 305 Multihandler comes with an optional two-part XL telescopic boom, which provides the operator with an extended reach and lift height of 30 feet (9 metres) for greater reach and loading ability.

These units are designed to be ideal for any material handling needs in scrap handling, waste transfer station and forestry industry applications.
Company info
Related products