Static pile system
Covered, aerated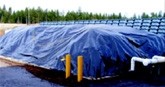 The AC Composter is a covered aerated static pile (ASP) composting system designed to provide operators with a cost-effective tool to control odour and maintain "Best- Practice" Oxygen and moisture levels for aerobic composting. The AC Composter combines a fabric cover with ECS's proven ASP control and aeration technology. These systems provide: near-zero fugitive odour releases; minimized evaporative water losses from the biomass; an effective barrier to vectors (birds, rats, flies); neat, clean and professional looking appearance; and a broad range of aeration rates and process control options.

Odour control is achieved with a negative aeration system that eliminates convective pile surface losses. Plus, all compost exhaust air is scrubbed in a site-built biofilter.

The AC Cover
The AC Cover is made of a tough, UV resistant, waterproof, relatively light-weight fabric. It includes straps that are used for handling and securing, and can be removed or deployed manually for piles up to sixty feet in length, or with commercially-available tarp-rollers for larger piles. The AC Cover does not absorb water and become heavy, and is largely held in-place by the aeration system (suction - instead of ballooning). Units are relatively low-cost, and airflow characteristics do not change with fabric soiling.

The aeration, control and monitoring system
The AC Composter uses ECS' established CompTroller control technology. All compost pile temperature data is collected and stored on the CompTroller's PC interface, and batches of compost are easily tracked from start to finish through the facility.

The aeration rates to each pile are automatically controlled per operator-chosen set-points. The integral aeration system is configured per the aeration requirements of the application (high-rate or curing). The aeration rates can be set very low (anoxic conditions) if conserving moisture and fan power is the highest process-setting priority, and then increased prior to removing the cover to lower the temperatures and raise the Oxygen levels in the pile.

The aeration floor
ECS' in-slab aeration floor is compatible with loading and unloading using a front end-loader, provides uniform air distribution, collects condensate/leachate, and is plug-resistant and easily maintained. A less expensive "above-grade" aeration system option is also available.