Friction mat ensures motor carrier compliance in Canada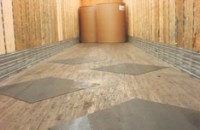 There is a new over the road ruling in North America that all transport companies across Canada should now be aware of. Effective July 1 of last year, in all provinces, and in accordance with The National Safety Code Standard 10 Cargo Securement Act, all motor carriers are required to comply with load securement standards. The Load-Grip friction mat by NRI Industries, a recycled rubber products manufacturer, is designed to ensure that motor carries are in full compliance with the new regulations. "We are pleased to offer a product that addresses the issue of cargo safety. Load-Grip will reduce load movement tendency experienced during transport of goods," said George Downey of NRI Industries.

Load-Grip friction mats are manufactured from fibre reinforced masticated rubber, which provides unparalleled tear and stretch resistance. This high-coefficient of friction mat assists in the reduction of load movement tendency by a proven factor of eight.

Speeds as low as 2.5 mph can affect a motor-carriers load, which in-turn can damage valuables. Load-Grip is a recognized load restraint device by the U.S. Department of Transportation.

NRI Industries has been an active participant in the North American Cargo Securement Act development since 1996. All anti-skid mats used in conjunction with the Federal Motor Carrier Safety Administration (FMCSA) and the Commercial Vehicle Safety Alliance (CVSA) must meet the required minimum coefficient friction of 0.8g. Load-Grip has a rating of 1.15g. Each mat comes with a yellow colour band for quick and easy identification for highway inspectors, a move that was applauded and embraced by the FMCSA and CVSA.