Terex Construction aggressively invests in Fuchs business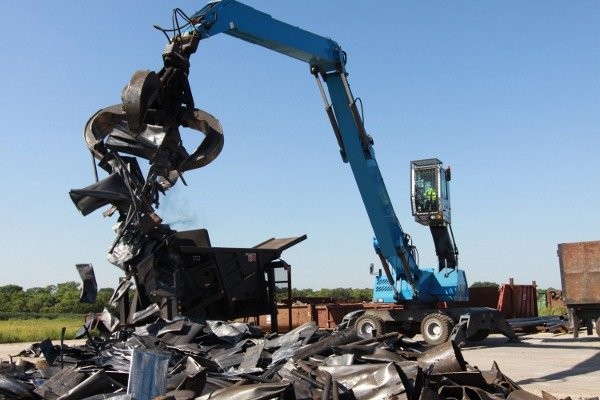 At this year's ISRI 2014, Terex Construction Americas announced a strategic investment in its Terex Fuchs material handler business, beginning in the second quarter of 2014. The company will significantly expand the Terex Fuchs sales force to broaden representation and support for its existing scrap distribution network and customers, while enabling a deeper level of support for its waste, logging and bulk handling/port market customers.
"This is a continuation of a strategy initiated last year that expands the market channels for our material handler product line," comments Dean Barley, VP and general manager for Terex Construction Americas. "This next step more than doubles our Terex Fuchs sales force, reduces field territory size and allows us to expand development of support programs to our customers in the waste, forestry and port markets."
Leading the charge of the expanded field sales force initiative is Martin Gonzalez, newly appointed sales director for Terex Construction Americas. Gonzalez will have primary responsibility for the market expansion and sales initiatives for Terex Fuchs equipment in the Americas, as well as manage strategic programs for compact construction equipment sales and distribution in the Latin American region.
"Terex Fuchs material handlers are excellent, purpose-built products, yet they haven't reached their market potential in the Americas," says Gonzalez. "We are improving our customer interaction and coverage with our larger sales force, while, at the same time, expanding distribution. This will enable more customers operating in a variety of markets to experience the significant benefits and efficiency gains offered by Terex Fuchs material handlers."
The additional Terex Fuchs Regional Sales Managers offer many years of experience as Terex Team Members and bring their own unique skill sets to the positions. This knowledge will enable the managers to forge deeper customer relationships and help ensure operations get the most productive material handling equipment to meet their particular application requirements.
"These individuals have backgrounds in forestry equipment, working with national accounts and developing distribution, which are all critical tools for the success of our expansion strategy as well as the customer's success with the equipment," adds Barley.
With the handlers making their last engine transitions to Tier 4 final, a rebound in the housing market, increase in steel prices and an uptick in scrap activity, Barley sees this as the perfect time for investment spending in the material handler product line and the customer.
Celebrating its 125th anniversary in material handling, Terex Fuchs offers a wide array of material handling equipment, purpose-built for demanding scrap, waste and recycling, logging, and port applications.
The nimble MHL320, MHL331 and MHL335 models boost efficiency rates at feeder scrap yards, transfer stations and material recovery facilities (MRF). The productive MHL340, MHL350 and MHL360 handlers excel in high volume scrap handling applications, while the recently introduced MHL350 E HD log handler elevates productivity rates at the mill yard and in logging applications. More powerful, longer reach models, like the MHL380 material handler, have helped businesses to significantly reduce vessel off-load times and demurrage costs in bulk handling applications at ports.
Modular construction of the upper carriage and undercarriage affords customized machine designs to meet specific customer needs. As an option, all Terex Fuchs material handler models can be powered by electric motors, offering the benefits of zero emissions, low operating noise levels and reduced long-term operating costs compared to diesel-powered units. Electric Terex Fuchs machines are available in a variety of stationary and semi-mobile configurations.
For more information about the Terex Fuchs material handler line, visit www.terex.com/construction