Review of fertilizer regulations opens opportunity for compost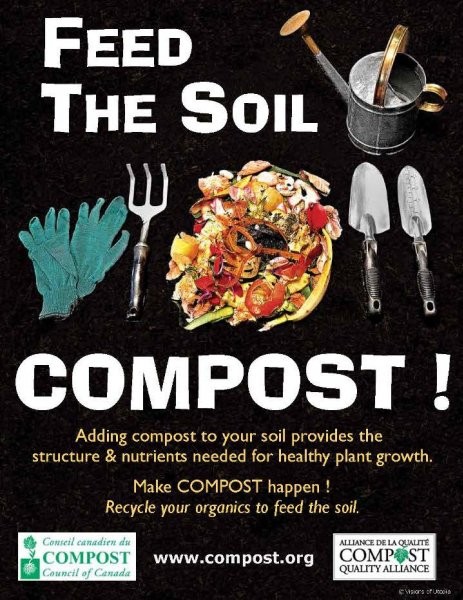 by Susan Antler, Executive Director, Compost Council of Canada
The Compost Quality Alliance (CQA) is currently viewed as the option-of-choice to protect the compost industry and consumers from the "buyer beware" marketplace being created by the Canadian Food Inspection Agency (CFIA) federal directive to withdraw from reviews of product performance and benefit claims.
Federal oversight with respect to the regulation of compost and digestate under the Fertilizers Act & Regulations is also currently under review as part of the following three initiatives.
1.) Amendments to the Fertilizers Regulations – which will now focus on product safety, discontinuing attention on efficacy and quality regulation, and introducing changes to pre-market assessments for fertilizers and supplements as well as marketplace monitoring activities.
2.) The CFIA Regulatory Modernization process – which involves a systematic review of all regulatory frameworks for food safety, plant and animal health.
3.) Agricultural Growth Act (Bill C-18) – which, if passed by Parliament, could have potential impact on the composting industry, involving facility licensing and additional record-keeping requirements.
With the CFIA no longer monitoring quality and verification of product guarantees, the CQA program enables the organics recycling industry to establish a form of self regulation, helping to address both product claims as well as supporting marketing efforts to build usage across a range of end markets.
The CFIA has been actively involved in the CQA's development and structure. As a voluntary-based program managed through Compost Council of Canada and CQA members, the CQA requires all participating facilities to comply with a prescribed product testing and reporting regime, feedstock declarations and recommended usage directions that meet and exceed current federal and provincial regulations.
Currently, approximately 25 percent of all compost produced in Canada is regulated under the CQA program with the Compost Council hoping to double the number of compost facilities involved in the program by year's end. As part of the overall federal review, compost's definition under Schedule II is also currently being considered for revision, with mandatory feedstock designation.
To reduce excessive variations in designations, six category declarations have been proposed for labeling purposes: post consumer source-separated organics, leaf & yard residues, municipal biosolids, fishery & aquaculture residues, forestry residues and livestock & agrifood residues.
Compost advocates and interests are encouraged to participate in the upcoming year's discussion, spearheaded by the CFIA and Compost Council of Canada, to review the appropriateness and develop definitions for the proposed compost categories, as well as to discuss any additional labeling requirements arising from the CFIA's revised focus. All of the above changes, currently "in the works" at the federal level, present impacts to the organics recycling industry. It will be the choice of each facility, with respect to their "next steps action", that will determine the longer term destiny of how compost and digestate will be managed in the Canadian marketplace.
The Current Regulatory Regime for Compost and Digestate
When sold, both compost and digestate are regulated by the Fertilizers Act & Regulations in Canada, impacting product claims and labeling. Considered as a supplement under Schedule II of the regulations, compost must conform to prescribed standards for organic matter and moisture content, trace elements and pathogens.
Additional testing and labeling requirements are required when fertilizer claims and specific feedstocks are utilized. Adherence to the requirements under Schedule II enables compost to be sold without any pre-clearance or advanced registration with the CFIA. Digestate requires advance registration when recommended for agricultural use as a farm fertilizer, but is exempt from registration when recommended only for use on household plants, urban gardens, lawns or golf courses, or in nurseries or greenhouses.
A detailed listing of applicable compost and digestate regulations across Canada is available to members of the Compost Council of Canada at www.compost.org, or call 416.535.0240.