Material handlers help scrap recycler keep up with opportunity
Long reach equates to higher efficiency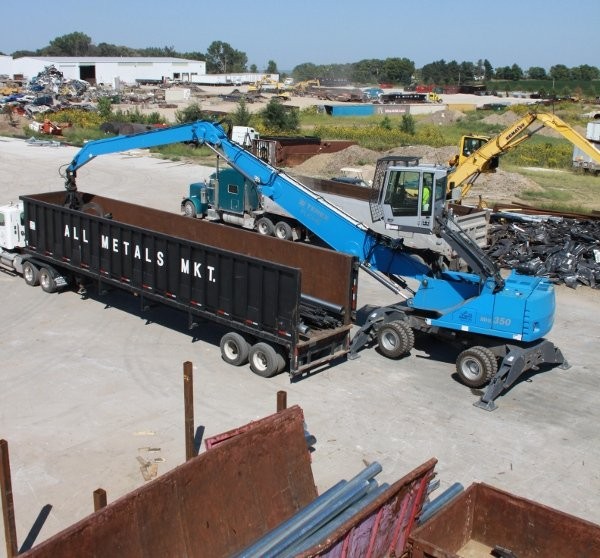 People often think fondly about how business used to be conducted. There was a time when a person's word was his or her bond, a handshake was all it took to complete a deal, and when serving the customer was, above all else, the primary objective.
While many companies have long forgotten about this business style, Kevin Yount and All Metals Market (AMM) of Fremont, Nebraska still puts these "old-fashioned" concepts into practice. From walking curious customers through its scrap training and education facility to assisting peddler traffic through the drop-off process, to offering quick turnaround container service for its commercial customers, AMM's mission is to provide superior customer service.
"We make sure we have a customer-friendly operation and walk anyone through the process," explains Yount, owner of AMM. "This gives them a reason to come back."
For its commercial customers, if there is a company anywhere in Nebraska generating scrap, AMM will get a roll-off container there. Whereas other companies take the philosophy of only picking up a full container when it fits into their schedule, AMM is much more proactive.
"We have 15 trucks dedicated to this service and make sure we turn a container within 24 hours of receiving a call that it is full," says Yount. While this type of business philosophy may seem a little old-fashioned in today's business environment, there's nothing old-fashioned about its results. All Metals Market has experienced significant growth, especially since the end of 2007 and beginning of 2008. When Yount took over the business in 1987 from his retiring father, who started AMM as a side business, he was the only employee. For the first few years, he says it was a good day to see two to three trucks come into the yard along with local peddler traffic.
"Today we receive up to 20 of our containers and five to ten trailers each day," says Yount, who adds that the business is poised for continued growth. Although growth is good, when it occurs it begins to reveal areas where an increase in efficiency is needed to maintain a desired level of customer service. One area that required improvement for AMM was in the way it handled its scrap material.
"The short reach of the excavators at the yard hindered operators from keeping up with the inflow of material," explains Jay Young, scrap and recycling sales manager for Roadbuilders Machinery and Supply Company, the Terex Fuchs equipment distributor for the region.
"They were handling material two and three times before processing it and that wasn't efficient."
Long reach, better efficiency
Of greater concern for AMM, with their increased material inflow, was the fact that operators were being forced to stack material higher. This made visibility an issue, as stockpiles of scrap grew and high-wall trucks delivered material more frequently, which demanded efficient unloading. The converted excavators in the yard offered limited elevated vision, which did not help the situation.
Yount worked with Roadbuilders Machinery to find a purpose-built material handler solution that would more efficiently off-load high-wall trailers and stockpile material.
"After discussing his needs, we determined that the Terex Fuchs MHL350 D material handler was the right fit for the operation," recalls Young.
One change from the tracked excavators in the yard was that the new material handlers had a rubber tire drive system. As AMM transitioned more of the yard from a hard aggregate base to concrete, a tire machine was the right choice.
"Plus," says Yount, "the material handlers with tire drive get around the yard quickly, and they can pick a considerable amount of weight."
The primary benefit for AMM, however, turned out to be machine reach. The Terex Fuchs MHL350 D offers a standard 16-m (52.5-foot) reach, nearly twice as far as the excavators AMM had in their yard previously.
The company says the extended reach of their new machines enabled them to reduce the number of times the scrap material was handled, boosting efficiency. AMM's operators also quickly discovered the significant benefits of switching to a material handler with an elevated cab design. The MHL350 D handler features a hydraulically height-adjustable cab with up to a 5.6-m (18.4-foot) maximum eye level elevation.
"The ability to elevate the cab helps operators to see better when loading and unloading trailers and the processing equipment at the scrap yard," comments Young.
Yount adds, "For us, it's also about safety. The ability to improve visibility through the elevated cab helps us to safely handle the material."
While the material handlers have helped AMM improve productivity, efficiency and safety, Yount still keeps a number of excavators at the yard.
"I'm an equipment nut, and if I need a piece of equipment, I want it nearby," says Yount. "The excavators are relegated to doing the short-reach, tedious stuff. The real lifting and long reach work is left to the Terex Fuchs material handlers."
Taking advantage of an opportunity to expand
The efficiencies gained at their yard gave Yount the confidence to take advantage of an opportunity to expand AMM's commercial business. A nearby manufacturer of metal tubes had a need for an operation to process its out-of-spec product.
"It comes in all different sizes and diameters, from 2- to 14-inch diameter (50.8- to 355.6-mm) round tubes, to lengths reaching 42 feet (12.8 m)," explains Yount.
Initially, AMM partnered with another company to process the material. However, its partner found cutting the tubes into the smaller sizes required by the steel mill to be easier said than done. Many more truckloads of this material came through the gates each day than could be processed, so the out-of-spec tubes quickly stockpiled. When it came time to review procedures, it was left up to AMM to go it alone and find a more efficient way to process the difficult scrap material. Yount came up with a plan that involved a new type of shear and another material handler.
"I didn't look for or try any other type of loading equipment," he says. "I trust Roadbuilders and the Terex Fuchs material handlers." For his shear, Yount chose a new gravity-fed, 2,000-ton guillotine shear, built by Italian manufacturer, Bonfiglioli S.p.A..
The unit was installed at AMM's Fremont, Nebraska facility specifically for processing the steel tubes. The company also purchased a third MHL350 D material handler, with its primary mission being to processing the out-of-spec material. Yount says that the elevated cab is of particular benefit for this application, as the feed hopper of the gravity shear is higher than that of the high-wall trucks transporting the metal tubes. Up to five truckloads of the out-of-spec material pass through AMM's gates daily. The handler, with its four-tine grapple, immediately offloads the material, feeds the shear and loads trucks with the processed material.
"We had to go with the four-tine grapple for this application," explains Yount, "since it's like grabbing a handful of straws." AMM's unique solution is working well for the unusual scrap material. Whereas the other processor could not keep up with the influx of material, AMM says their operators are able to efficiently keep up, thanks to the help of the MHL350 D material handler and their new gravity shear. "It's an interesting circle," adds Yount.
"The material goes from the mill to the tube manufacturer to make its product. The out-of-spec material comes to us, and we process it and send it back to the mill."
Yount says the lessons learned in serving the customer from his former one-man operation continue to be AMM's guiding principles and has led the company on a path of significant growth. It has also been a confidence-builder for Yount to continue to expand AMM's services, such as the new venture with the metal tube manufacturer.
Because of the company's growth and the increase in scrap material volume, the next logical step for AMM was to install an automobile shredder, which was commissioned in the fourth quarter of 2013, and built by Bonfiglioli, the manufacturer of the gravity-fed shear. Operators have quickly learned that feeding the new shredder demands their constant attention.
"It requires one, sometimes two Terex Fuchs material handlers working together to stage and feed the mill," says Conner Yount, yard operations manager for AMM.
With two guillotine shears, a shredder and a baler to feed, operators find that there is never an "extra" material handler available during high volume periods – meaning the future addition of a fourth machine is a virtual certainty.
"This time we may increase in size to the MHL360 for the additional reach," says Yount. According to Terex Fuchs, the MHL360 offers a 12.5 percent longer reach than the MHL350 D material handler (18 m (59-ft )) which will definitely be helpful in further boosting loading efficiencies at AMM.