Innovative "Green Efficiency" and safety features mark the first appearance of Sennebogen material handlers at CONEXPO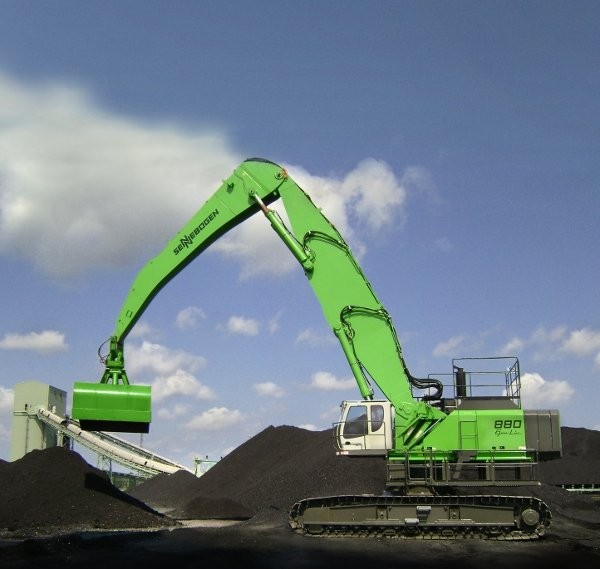 For its first-ever appearance at ConExpo, North America's largest construction / heavy equipement show, SENNEBOGEN will introduce its latest innovations in energy-efficient, safety and cost saving features, Booth #4264 - Silver Lot.
Equipped with SENNEBOGEN's current E-Series updates, the firm's latest material handlers provide a wide range of additional cost-saving features. Its "Green Efficiency" package, recently introduced to the marketplace, includes the "Eco-Mode" and no-load automatic stop functions. The "Eco-Mode" setting combines reduced engine speed with an automatic idle control and a start-stop system that will effectively reduce fuel consumption. Thanks to a new intercooler design with direct mechanical drive, the E-Series models reach their operating temperatures quickly and uniformly, reducing overall energy demand.
The innovative SENNEBOGEN modular system provides operators with the opportunity to specify their undercarriage to meet their application requirements. Operator comfort and safety is enhanced with the SENNEBOGEN maxCab including sliding door, comfort seat and an automated heater/air conditioner. Large windows, LED headlights for night work, peripheral safety cameras and a clear view of the working site from their elevated position make it an ideal place to work.
E-Series features will be rolled out in new editions of SENNEBOGEN's full range of wheeled, tracked and custom-mounted material handlers. "We are very excited by these new product developments and look forward to showcasing them to ConExpo visitors," said Constantino Lannes, President of SENNEBOGEN LLC.
Built in Germany, SENNEBOGEN machines are supported in America by a 100,000 sq. ft. parts and training facility at its U.S. head office in Charlotte, NC. Its dealer network provides over 250 service locations in the United States, Canada and Mexico, supporting customers in aggregate, waste management, mining, scrap and recycling businesses, inland and ocean port facilities and forestry applications. Offering the industry's widest line-up of purpose-built material handlers, the recognizable green SENNEBOGEN machines can be matched to any application with operating weights from 44,000 lbs. to 750,000 lbs. (20 to 340 t).