SENNEBOGEN material handler expedites demolition in urban renewal project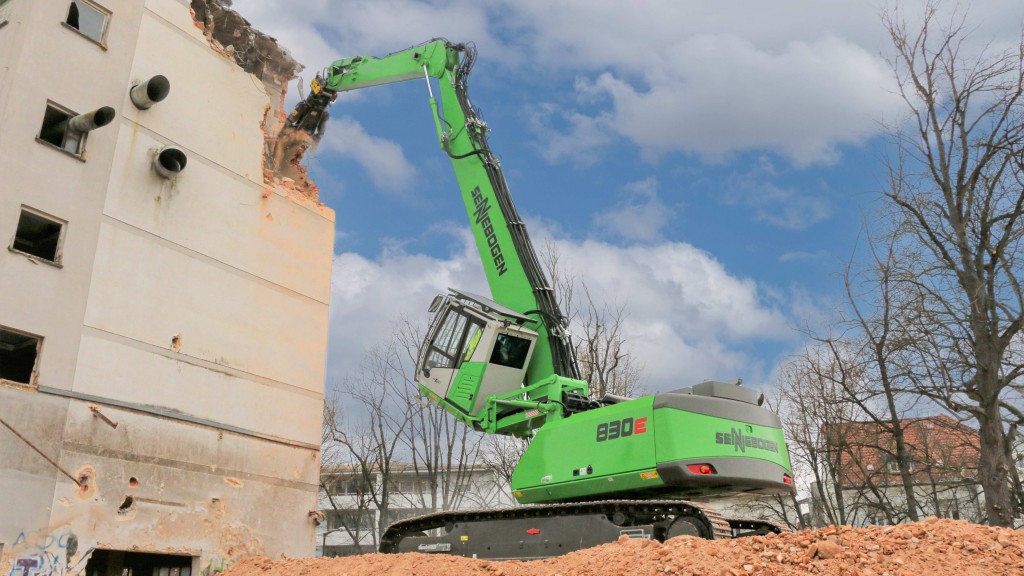 Downtown Straubing, Germany, is not unlike any other growing city. With a constant demand for urban renewal and therefore the need to increase traffic flow to the downtown core area comes the need to increase parking availability. Repurposing the area of an old unused storage warehouse next to the Straubing train station was an ideal solution.
Plannerer, a regional demolition contractor, was contracted to take the warehouse down. They reached out to SENNEBOGEN and chose a SENNEBOGEN 830 R-HDD from the SENNEBOGEN rental fleet. It came equipped with a fully hydraulic quick-change system and demolition shears that would aid the controlled dismantling of the structure.
In tight quarters, blasting or using a wrecking ball is not a possibility. Plannerer chose the SENNEBOGEN 830 R-HDD because of the responsiveness, speed, and accuracy of the machine's hydraulics to create fast cycle times. Using this targeted deconstruction method also contributed to the sustainability of the project. The precision of the hydraulics meant that materials including bricks and metals would be separated and recycled rather than going to the landfill after clean-up.
Plannerer says that the features of the 830 R-HDD impressed them. The operators really liked the accuracy and responsiveness of the hydraulic system. They also appreciated the telescoping crawler tracks because they helped make the machine stable when it was working on a raised backfilled work area and reaching up just over 59 feet (18 metres). The other key feature of the 830 R-HDD was the Maxcab and its ability to raise it and angle it up 30 degrees, giving the operator a clear view of the work area while eliminating the need to constantly strain their neck to look up and see what they were reaching for.
The responsiveness of the 830 R-HDD's hydraulics allowed Plannerer to deconstruct this empty, unused warehouse quickly and then move on to the next project.