San Francisco aims to eliminate used clothing and household textiles from landfills by 2020
Zero waste textile initiative first of its kind to be sponsored by major American City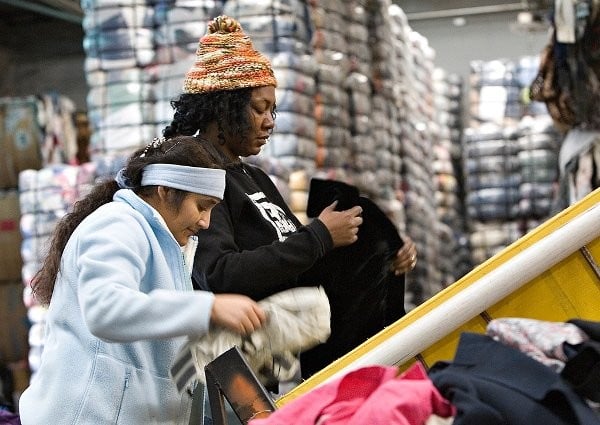 The Secondary Materials and Recycled Textiles Association (SMART) applauds the announcement made by the City of San Francisco that they are adding used clothing to their recycling program. San Francisco officials said the program is the first of its kind to be sponsored by a major American city. They announced the "Zero Waste Textile Initiative" at a news conference held January 15.
Containers labeled "SF Save Fashion" are being placed alongside existing recycling containers in more than 100 locations in major retail outlets throughout the city. Apparel, shoes, belts and household textiles will be collected and sorted by I:Collect which is also participating in the program. I:Collect is a subsidiary of SMART member company SOEX.
The materials will then be distributed to Goodwill, along with other charities and for-profit clothing recycling companies. The items will be re-used as clothing or will be re-manufactured into new products such as industrial wiping and polishing cloths, home insulation, carpet padding, stuffing for pet bedding among many other products.
San Francisco joins several other U.S. cities that partner with private industry to collect used clothing as part of their recycling programs. More than a dozen municipalities in New Jersey partner with SMART member company Trans-Americas Trading to recycle used clothing and household textiles. United Fiber, another SMART member, launched a curbside recycling program in 2012 in the town of Queen Creek AZ, just outside Phoenix. And, the city of St. Paul, MN encourages residents to recycle their used clothing in its curbside collection program. Items must be clean and dry and placed in a plastic bag labeled "clothing and linens."
According to the United States Environmental Protection Agency, more than 13 million tons of solid municipal waste is generated annual that is exclusively clothing and other household textiles; of this amount 2 million tons, only 15.3%, is recycled.
"Typically, clothing and textiles are not considered by the general public, to be recyclable products like plastic bottles, aluminum cans, and paper. We are very pleased to see the City of San Francisco recognize the fact that used clothing is a recyclable," says SMART Executive Director, Jackie King. "Not only does this remove these items from the waste stream, the EPA reports recycling used clothing has a major beneficial impact on reducing greenhouse gasses."
In its 2011 study of Municipal Solid Waste, the U.S. EPA has calculated the impact the current level of recycling has Greenhouse Gases in the United States. The EPA report indicates the 2 million tons of textiles are currently recycled annually; this is the equivalent of removing 1 million cars from America's highways. This is more than 5-times the impact of recycled yard trimmings (170 thousand cars removed); is more than 4-times the impact of glass recycling (210 thousand cars removed); more than plastic recycling (640 thousand cars removed); and is nearly equal to the impact of aluminum recycling (1.3 million cars removed).
SMART estimates that ninety‐five percent of all clothing and household textiles can be recycled or repurposed. The repurposing of textile products includes converting them into wiping cloths or remanufacturing them into products such as home insulation, carpet padding, or sound proofing material.
"Only 5 percent of all textile materials are ultimately disposed of as trash because they are either wet or are contaminated with oil, paint, or some other hazardous material," says SMART President Lou Buty. "As long as the items are clean, even if they are stained or damaged, there is a recycling use for the material."
Secondary Materials and Recycled Textiles (SMART) is an international nonprofit trade association that strengthens the economic opportunities of its diverse membership by promoting the interdependence of our industry segments and providing a common forum for networking, education and trade. Since 1932, SMART has been at the forefront of recycling. SMART members use and convert recycled and secondary materials from used clothing, commercial laundries and non-woven, off spec material, new mill ends and paper from around the world. SMART member companies create thousands of jobs worldwide. SMART members prove each day that you can make money by being socially responsible.
For additional information on SMART, visit the association's website at www.SMARTasn.org.
The following link leads directly to informational videos on textile recycling http://www.smartasn.org/about/videos.cfm.
To download the iRecycle app visit www.Earth911.com. The app allows users to find clothing and textile recycling drop-off locations in their area.