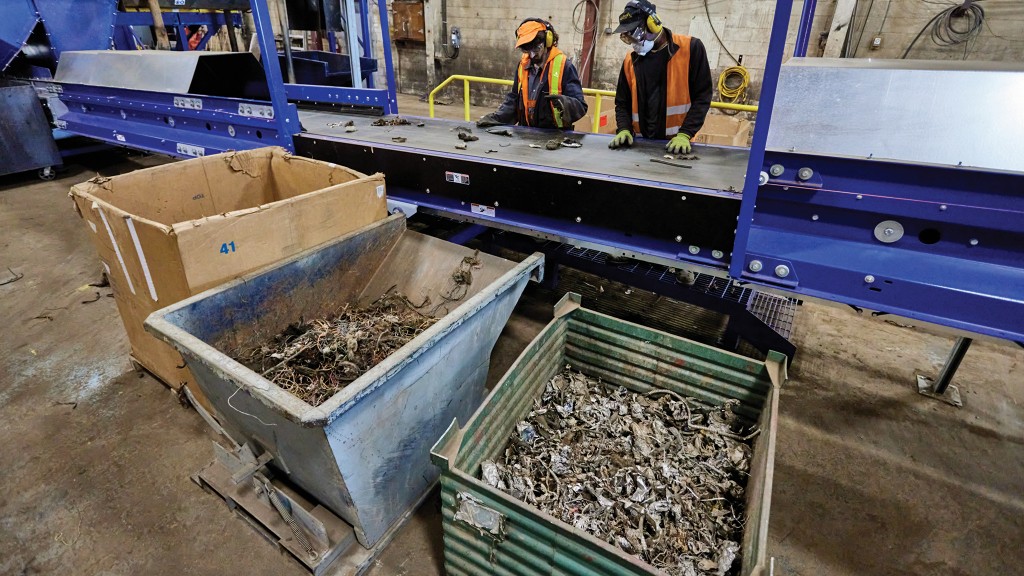 Dartmouth Metals got its start in the metals processing game back in the 1960s when Linwood Giberson began buying and selling metals in Dartmouth, Nova Scotia. His son Peter joined the family business in 1979, followed by Peter's son, David, a few decades later. After working part-time at the yard throughout high school and university, David Giberson was able to learn the intricacies of the family business before eventually taking over the company in 2009.
Fast forward to present day, and Dartmouth Metals processes metal from all over the Maritimes to sell locally, provincially, and internationally. As a third-generation family-owned metal recovery and recycling business, Dartmouth Metals credits its longevity to staying ahead of a constantly evolving industry by cultivating a unique mix of services, equipment, and lasting customer relationships.
With services including demolition and interior dismantling for structures such as refineries, mines, bridges, and boats, Dartmouth Metals is no stranger to complex waste streams. The company processes a diverse range of materials each year, consisting mainly of electronic components and ferrous and non-ferrous metals sourced from auto parts salvage yards, demolition sites, industrial applications, and the general public. In order to offer such a sizable portfolio of services, Dartmouth Metals maintains an extensive fleet of specialized equipment to demolish, clean up, and recycle projects of all sizes.
Keeping up with evolving needs
After over six decades in the recycling business and faced with an ever-increasing volume of incoming materials, Dartmouth Metals was in need of an upgrade. Fortunately for the company, its 10-acre yard allowed for the flexibility to accommodate new equipment and system expansions. Utilizing an existing building on the property, Dartmouth Metals recently installed a WENDT non-ferrous plant that was specially engineered and customized to work within the space restraints of the building.
Previously, Dartmouth Metals' system was incapable of capturing many of the residual non-ferrous metals from the automotive shredder, leaving the company no option but to ship the materials to a local competitor. Where they should have been achieving a recovery rate of between 11 and 14 percent, Dartmouth Metals was instead hitting closer to six percent. With the new system, the company now expects to raise these numbers and recover a substantially higher percentage of materials.
"That system has made a big difference here, just being able to sort all that material where we couldn't before, plus reducing the landfill costs," says Giberson. "There were valuable metals that you would have to send to the landfill knowing full well what you were losing."
The new system will recover the previously missed Zurik, copper wire, and Zorba fines from the auto recycling process by incorporating the company's two previously existing eddy current separators with a WENDT Tumbleback Feeder, fines eddy current separator, J-Box, trommel, and a WENDT/TOMRA FINDER.
After shredding the cars, the ferrous materials are separated out via magnets, and everything else is sorted into a separate pile consisting of non-ferrous metals and waste components such as vehicle upholstery. The pile then enters into a single-line downstream plant containing three eddy current separators and a trommel which produces three sizes of aluminum: one inch and less, one to four inches, and a four-inch-plus size.
"If you think of the car with an aluminum motor, when that goes through the shredder, it gets smashed into a thousand pieces," says Giberson. "We're able to get every piece of aluminum from that motor, even if it's the size of a dime."
After all of the aluminum has been removed, the remaining pile drops down onto a different sorting line where it passes through the J-Box to screen out any remaining waste before entering the x-ray sorting machine where it is then sorted based on metal.
"With [the WENDT] plant, we're able to separate the metal better from the shredder, and also reduce our landfill costs," says Giberson. "The amount of material that's now going to the landfill from the shredder, we've probably been able to reduce it by I'd say 10 to 15 percent as a result of this machine. It's probably because we're recovering more metal, but another huge benefit was reducing our landfill costs. Obviously, as a result, it's better for the environment overall since we're able to keep that out of the landfill and recycle the metal at the end of the day."
Adding value with the right equipment
When it comes to output, recyclers have two main options: sell it as-is, or invest in equipment that will increase the quality of the yield and boost profits. As the first metal recycling company in the Atlantic provinces to purchase a copper and aluminum granulator, Dartmouth Metals has been able to nearly double the value of its insulated wire by processing it into clean copper.
"The new WENDT system produces a lot of insulated copper wire," says Giberson. "Before, that wire would just go into the landfill since it was so small that we couldn't manually sort it. Now, you can take a little piece of wire the size of a pen, for example, and we're able to capture that in our downstream plant. Before, we would get maybe 1,000 pounds of wire. Now, we're getting 20,000 pounds a month that we can run through the copper granulator and create pure copper. That's a huge benefit."
Staying on top of safety
Choosing the right equipment can benefit more than just a company's bottom line, though. Safety in any recycling operation is a huge priority, and equipment is one major way that Dartmouth Metals is tackling occupational hazards.
"We have these stationary inclined shears that we use to pre-cut any vehicles that enter our shredding process," says Giberson. "We do that basically for two reasons, to increase the production of the shredder, but also safety-wise, we're able to eliminate any chance of an explosion in the shredder. The idea is that if something in there is combustible, like a propane tank or a gas tank, it's fully decompressed before it enters the shredder. In the metal recycling industry, the shredders are the biggest risk of having an explosion. We haven't had one in three years now with this machine."
When it comes to safety, Dartmouth Metals has done more than just eliminate shredder explosions. Following a car pile fire last year, the company made substantial investments in fire prevention technology to protect its employees and assets from any future incidents. However, even with fire prevention technologies becoming more advanced and accessible than ever, fires remain one of the top challenges for recyclers. According to the most recent fire safety report from Fire Rover, 2022 was the worst year yet when it came to recycling facility fires in the U.S. and Canada.
"It's an awful thing when it happens," says Giberson. "We've invested a lot into firefighting equipment, and also into our employees and educating them on what to look for. We recently purchased a piece of equipment that will monitor the pile 24/7, and it has the ability to sense anything that's going to heat up. If it reaches a certain level, it'll deploy fire retardant material and notify the fire department. It'll hopefully put the fire out before it starts, but can also keep it at bay until the fire department gets there. We've invested a lot of money in that."
According to Giberson, the rise of lithium-ion batteries has also exacerbated an already challenging landscape. And with the increased adoption of electric vehicles, this hazard won't be subsiding any time soon.
"There are no real guidelines on how to handle lithium-ion batteries or put out a fire that ignites from them. That's something operationally that is a concern right now," says Giberson. "You could have a bale of steel come into the yard that you bought from a customer. You can inspect it the best you can. You can talk with your suppliers. But all it takes is one bale to come in this yard, and overnight that bale could ignite. We're pretty vigilant, but there's still only so much you can do. It's a constant worry."
Working toward a greener future
Metal recycling facilities are, at their core, built on sustainability. By melting down metals for reuse in the production of new metals, Dartmouth Metals is playing an important role in the move toward a more circular economy.
"Our whole business is predicated on recycling metal and trying to educate people that, yes, it looks like a pile of metal, or maybe it's not the most sightly thing in the world, but that pile of metal is going back into the supply chain and reducing a lot of energy costs in the process of making new steel aluminum or copper," says Giberson.
With a cradle-to-grave approach and decades of success behind it, Dartmouth Metals is gearing up for an even brighter and greener future. With long-term goals to eliminate fossil fuels from the yard, Dartmouth Metals' next step is to incorporate electrification into every aspect of its operations, from the trucks delivering the materials to the excavators loading the containers and rail cars.
"Everything I'm doing, I'm trying to convert over to a sustainable aspect of the business," says Giberson. "Whether it's converting diesel machines to the electrical grid here in Nova Scotia, we're always looking at new ways to process the metals in a sustainable fashion. That's where we're headed in the future."
Company info
2555 Walden Avenue
Buffalo, NY
US, 14225-4737

Read more