Choosing the right waste handling and recycling package for your wheel loader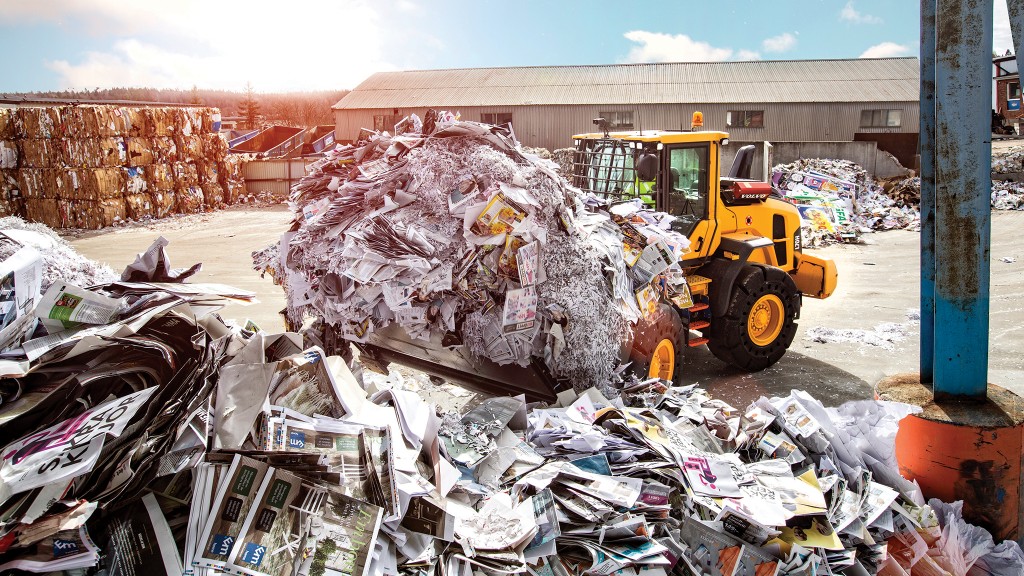 Many wheel loaders used in waste and recycling applications have aftermarket features added, but have you considered a full, factory-installed package to really protect your investment and improve upon its performance? Let's examine the value of going all-out on one of your most important machines.
Consider a wheel loader that is purpose-built for the waste and recycling industry
First of all, you should start with a machine that is purpose-built for the safety, dependability, and cost efficiency required in the waste industry. Wheel loaders in this environment are put through the wringer.
I think we can all agree that safety comes first, which is why you should look for a loader with excellent all-around visibility and features like handrails, cab entrance lights, and anti-slip steps and platforms.
A comfortable operator is a less fatigued and safer operator, so logically grouped switches and adjustable steering columns, seats, and armrests are helpful too. In waste environments, a quality cabin air filtration system and sufficient soundproofing are crucial.
The importance of rollover protection structure (ROPS) and falling object protection structure (FOPS) cannot be understated. And a fire suppression system is a safety and productivity feature every waste machine should have.
Because waste and recycling wheel loaders work so hard, you also want to look for a strong powertrain and linkages. For example, you want high torque at low rpms and high-flow, load-sensing hydraulics for fast hydraulic speeds and good fuel efficiency.
Torque parallel linkage offers high breakout torque and parallel lift at all heights, which is great for attachment angles that preserve visibility. Z-bar linkage offers high breakout force at ground level, which is ideal for filling a bucket.
One outstanding feature offered on certain Volvo wheel loader models is OptiShift, which includes a lock-up torque converter and Reverse-By-Braking technology. The lock-up torque converter increases cycle speed and reduces fuel consumption, even at low rpms.
Reverse-By-Braking is a patented Volvo function that slows the machine when the operator wants to change direction by reducing engine rpms and automatically applying the service brakes, reducing stress on the drivetrain.
This combination can increase overall fuel efficiency by up to 15 percent, which is a lot when you consider the cost that fuel adds to your waste operation.
And speaking of brakes, they are a common cause of downtime in this industry, so look for features like forced-oil-cooled, outboard-mounted wet disc brakes and a differential lock in the front axle.
Choose a waste package that offers the best guarding for your wheel loader
Waste packages for wheel loaders offer multiple kinds of guarding, which is critical for the harsh environments in which these machines work. These can include:
Radiator grill guards protect the grill, cooling fan, radiator, and condenser cores from damage.
Window and windshield guards are custom made to minimize glass breakage and are hinged from the front for easy maintenance.
Front and rear belly guards completely enclose the components located within the frame, including the driveshaft, universal joints, and hydraulic lines (front), and engine and transmission (rear).
Steer cylinder guards protect exposed parts, including the steer cylinders, transmission, and hydraulic and electrical lines and connections.
Headlight and taillight guards protect all lights and turn signals from debris that may break or damage the lenses.
Boom cylinder, hose, and tube guards are used to cover the hoses connecting the boom cylinders to the main valve.
Wheel/axle seal guards keep material from wrapping around the axles and damaging the axle seals.
Front frame cover plate prevents debris from collecting inside the front frame while also protecting the main hydraulic valve and its connections.
Which tires are best for wheel loaders working in waste and recycling applications?
Wheel loader owners and operators know that one of the most important – and expensive – parts of these machines is tires. Good waste packages will have a solid tire option for added durability.
Volvo offers two types of solid tires: smooth and traction. Smooth tires are good for dry conditions, but if you have wet conditions or are operating on a concrete floor in a transfer station, traction tires are much better. These tires also have holes in the sidewalls to provide additional comfort.
Another smart addition to the package is a precleaner for the cab and engine air filters. This reduces contamination, helps extend the life of the filter and provides a better operator experience.
Many application-specific packages bring attachments into the equation as well. The right attachments with the right kind of durability-boosting features will go a long way toward keeping your machine productive. A long boom makes easy work of loading high trucks and stacking high piles, keeping the tires safely away from hazardous material and minimizing the risk of damage.
A logical machine design will include easy access to areas requiring regular maintenance. If you can reach grouped maintenance points from the ground, even better. An auto lubrication system, maintenance-free batteries, and a self-cleaning reversible fan are also major perks.
It's smart to consider a waste package that includes telematics and/or a diagnostic system to support your loader's uptime. The most advanced telematics systems can drastically reduce your time spent deciphering fault codes and preventing or repairing issues.
Assistive software is another technology that will support productivity with features like on-board weighing, real-time coaching, and tire pressure monitoring. Volvo Construction Equipment calls this Load Assist.
A final feature worth mentioning is something Volvo Construction Equipment launched called Collision Mitigation. It's an active braking system using radar and the Reverse-By-Braking functionality. The system works in reverse direction independent of gear lever position and will actively brake the machine if an obstacle is detected in close proximity behind it. The operator still has full responsibility for the machine and should always be aware of their surroundings, but Collision Mitigation will assist in preventing or reducing the impact, depending on machine speed and ground conditions.
Volvo CE's waste and recycling packages for wheel loaders
Environmental demands regarding waste disposal and recycling have increased dramatically in recent years. Much more is expected not only of those working with waste, but also of those supplying the machines to gather, sort, process, and dispose of the growing mountains of waste. Finding a comprehensive solution will help lead you to success.
Volvo CE offers an exhaustive waste and recycling package for wheel loaders, as well as a wide range of purpose-built loaders designed for maximum safety, dependability, and cost efficiency.
Ultimately, one of my best pieces of advice to you when looking for a new machine is to work with dealers and OEMs who can function as true partners to your organization.
Eric Yeomans is the product manager of GPE Products at Volvo Construction Equipment.