AFRA promotes global collaboration at inaugural Aircraft Recycling Symposium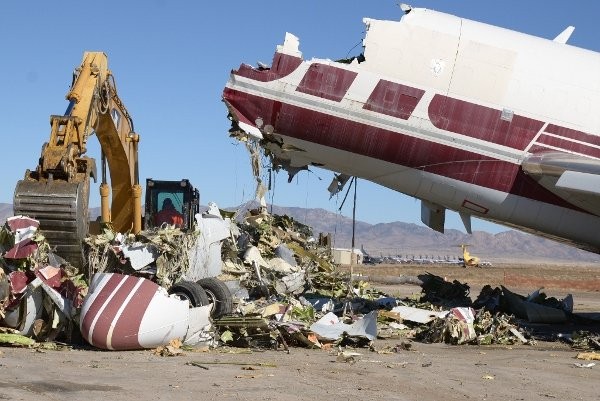 In December 2013, in Stuttgart at the first European Aircraft Recycling Symposium, William Carberry of The Boeing Company, one of the founders of the Aircraft Fleet Recycling Association (AFRA), highlighted AFRA's leading role in facilitating global collaboration toward standards for aircraft disassembly and recycling that are safe and environmentally responsible.
Carberry, Boeing Commercial Airplanes program manager for Aircraft and Composite Recycling, noted that since its foundation in 2006, AFRA has led industry efforts to promote greater environmental responsibility. The organization also champions technological excellence in all aspects of aircraft end-of-service activities.
Carberry stated that 'AFRA capitalizes on the industry expertise of its 71 member companies to bring innovation, safety and business sense to the management of the world's end-of-service fleet.'
Between 2006 and 2012, AFRA, in conjunction with industry, developed a series of Best Management Practice (BMP) Guides which cover all aspects of aircraft dismantling and recycling. The AFRA BMP Guides are used by independent auditors in the AFRA Accreditation process.
Attending the Symposium, Martin Fraissignes, Executive Director of AFRA and General Manager of Chateauroux Air Centre, noted: 'It is gratifying to see that AFRA's standards on safety, environmental responsibility, security, and sustainability which run through our BMP Guides, have been largely accepted throughout the aircraft dismantling and recycling sector. Our merged BMP Guide sets a baseline for encouraging and promoting greater industry accountability in terms of adapting a professional and responsible approach to aircraft recycling'.
Established in 2006, AFRA is a not-for-profit industry association with 71 members, from 15 countries whose businesses focus on environmentally responsible management of aircraft as they reach the end of their life cycles.
AFRA members have many years of combined aircraft recycling experience: AFRA Members recycle more than 150 airplanes a year; AFRA members recycle more than 30,000 tons of aircraft aluminum a year and 600 tons of used aircraft parts a year are returned safely to service; and AFRA has developed Best Management Practices for dismantling aircraft in an efficient and environmentally-sound manner and is focused on continuous improvement and expansion of the scope of the BMP to seek ever greater efficiencies.
AFRA's BMP Guides were merged into one document in early 2013.