Return-It establishes pilot program permanency with three new CNG-electric hybrid compaction trucks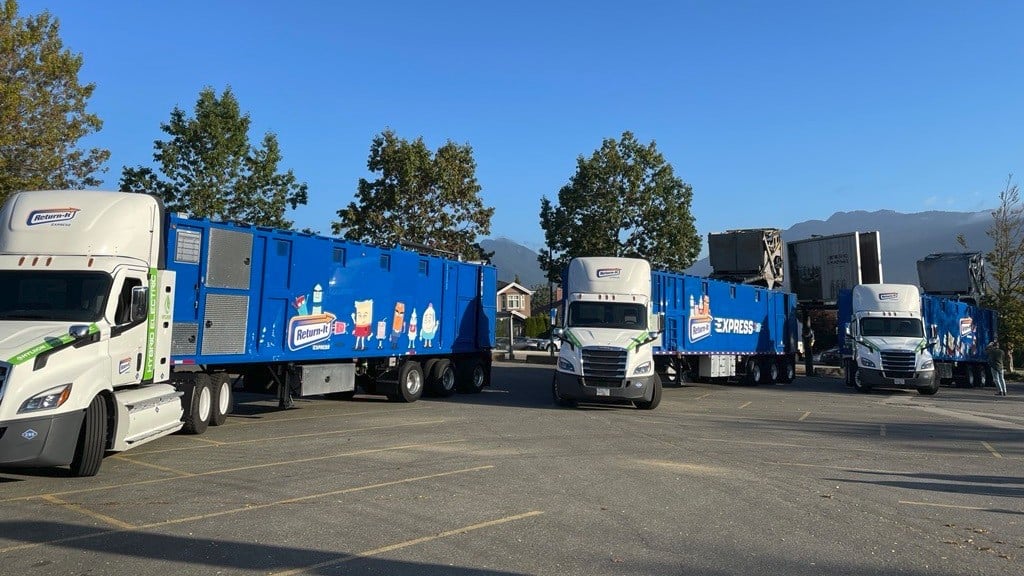 Return-It has expanded its compressed natural gas (CNG)-electric hybrid compaction truck fleet in its celebration of Canada's Circular Economy Month. The company has received and added three new trucks to its dedicated transportation network – a move that drives the organization closer to the goal of decarbonizing various areas of operations. The three trucks, which will join an existing fleet, will lower greenhouse gas emissions from beverage container transportation by up to 25 percent while at the same time reducing the number of transport vehicles on the road.
In September 2020 Return-It and its partners launched a pilot program for specialized CNG-electric hybrid compaction trucks. Since that first truck hit the road, approximately 150 million plastic bottles have been compacted as of September 2022. With the success of the pilot program, Return-It is making the program permanent and expanding the fleet to four CNG-electric hybrid trucks and three compaction trailers.
FortisBC is providing the CNG fuel. FortisBC works with large commercial fleets, governments, and municipalities to advance natural gas as a lower-carbon fuel that addresses the heavy-duty needs of commercial transportation operations. Compressed natural gas cost-effectively improves the environmental performance of the transportation sector versus conventional fuels like diesel or gasoline.
"We are pleased to provide lower-carbon fuel and fuelling infrastructure so that Return-It can expand its CNG fleet," says Sarah Smith, director of low carbon transportation and LNG business growth for FortisBC. "We appreciate working with a company that shares our commitment to decarbonization through the use of innovative technology to support lower-carbon and cost-effective fuels."
"Transportation contributes to 40 percent of British Columbia's overall GHG emissions and it is our goal province-wide to reduce these emissions by 40 percent by 2030," says Rob Fleming, minister of transportation and infrastructure. "We are excited to see organizations like Return-It adopting new low-carbon technologies in CNG-electric hybrid vehicles for their heavy-duty fleets. We need to work collectively towards transitioning towards zero-emission vehicles and welcome the benefits of this expansion."
Supplied by Hyliion, the CNG-electric hybrid powertrains not only release fewer emissions than existing diesel trucks, and combined with new and powerful compaction technology, they help reduce the number of vehicle trips required to take beverage containers from recycling depots to processing facilities. Adding the three CNG-electric hybrid compaction trucks reduces the number of kilometres travelled by 84,000 annually.
With the new trucks, service collection will gradually increase from 17 to 48 recycling depots throughout British Columbia's Lower Mainland, with the goal of expanding across more communities, province-wide.