Conversion to MACK TerraPro natural gas powered vehicles lightens the load in California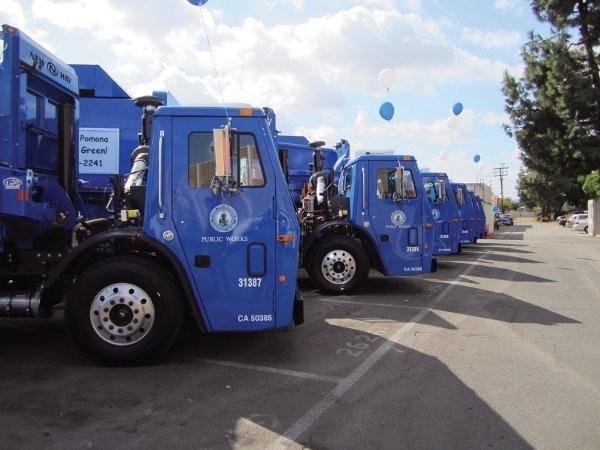 The City of Pomona, California (Los Angeles County) recently replaced its waste and recycle collection fleet with MACK TerraPro compressed natural gas (CNG) trucks, including 20 TerraPro Low Entry side-loaders and two rear-loading vehicles. All of the new vehicles are running 320-hp Cummins Westport ISL G CNG-powered engines. The City says the move has helped them lighten their fleet, literally.
"A lot of trucks tend to exceed the bridge weight laws here," explains Howard Morris, solid waste manager for Pomona, which has a population of around 150,000.
"Mack did a good job of spec'ing the truck with a lighter suspension," he said of the team from TEC Equipment, Mack's dealer in nearby La Mirada, California. "Our old fleet was falling apart. Breakdowns were costing us a lot of overtime."
An additional localized challenge the City of Pomona was facing prior to commissioning their new fleet, was the fact that The South Coast Air Quality Management District had ruled out the purchase of diesel trucks in the region. Pomona could either retrofit existing trucks with natural gas engines or buy new vehicles that run on natural gas. Morris says in the end, the air-quality mandate affected the city's operation in two good ways, as it resulted in their purchase of new trucks that are quieter and save money on fuel.
"It's $2-plus per 1,000 cubic feet (million BTUs) of natural gas and diesel is bouncing around $4 per gallon," says Morris. "We haven't had the trucks in service for a full year but I know we're going to save money on fuel."
According to Dan Huntsinger of TEC Equipment, the success of TerraPro CNG trucks in Pomona and other areas is paving the way for the next generation of Mack natural gas vehicles. "We have a lot of customers who run transfer tractors who are waiting for this," says Huntsinger.
"We definitely see a market for Mack Pinnacle models with natural gas engines."