Emterra Group to operate Mack electric collection truck in Greater Toronto area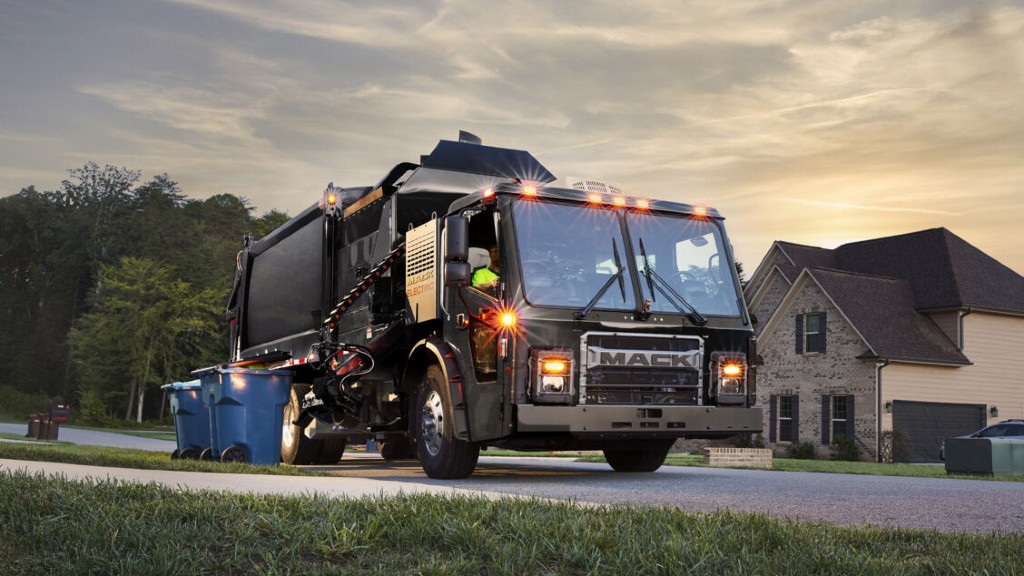 Emterra Group, an integrated resource management company in Canada, recently ordered a Mack LR Electric Class 8 refuse vehicle to help the company fulfill its environmental and sustainability goals.
"Emterra has been a company on the leading edge of providing progressive green solutions for a number of years, and we are pleased that they chose the Mack LR Electric as its first electric vehicle in the fleet," says Jonathan Randall, Mack Trucks senior vice president of sales and commercial operations. "Mack is pleased we are delivering Mack LR Electric refuse vehicles to customers to meet their timetables and their sustainability goals."
The Mack LR Electric will be the first battery-electric vehicle (BEV) in Emterra's fleet that will service the Peel Region in Ontario, Canada. In 2019, Peel's Regional Council declared a climate emergency and approved the Region's Climate Change Master Plan. The plan has an interim target of reducing greenhouse gas (GHG) emissions by 45 percent below 2010 levels by 2030 and enabling the community's transition to a low carbon and resilient community.
The Mack LR Electric refuse model will help the Peel Region to achieve its GHG reduction ambitions and was the primary reason Emterra chose to operate the vehicle there. Emterra currently operates 150 refuse vehicles in the Peel Region, most of which are powered by compressed natural gas (CNG).
"Reducing emissions and ensuring waste is collected in an environmentally responsible manner are important outcomes for the Region of Peel," says Norman Lee, director of waste management for the Region of Peel. "We are very excited to be part of this progressive initiative. Having the first Mack LR Electric vehicle servicing our community brings us one step closer to achieving our goal of zero greenhouse gas emissions from residential waste management."
The next generation Mack LR Electric was launched in March 2022. The LR Electric offers a standard 376 kWh total battery capacity for 42 percent more energy and increased range between vehicle charges. Twin electric motors produce 448 continuous horsepower and 4,051 lb.-ft. of peak torque output from zero RPM.
Four NMC (nickel manganese cobalt oxide) lithium-ion batteries, charged through a 150 kW, SAE J1772-compliant charging system, power the vehicle and all onboard accessories through 12V, 24V, and 600V circuits. The two-stage regenerative braking system helps recapture energy from the hundreds of stops the vehicle makes each day with an increasing load.
Emterra's LR Electric will be equipped with an automated side-loader and will operate in residential areas. Leung says the company is very interested in the proof of concept for the vehicle since Canada's climate is very different than the U.S., so mining the data collected will prove impactful.
"Nobody doubts the environmental impact, and we are excited to learn how the LR Electric will help us recruit and retain the next generation of drivers," Leung says. "We're also pleased that Mack offers the Ultra Service Agreement, giving us peace of mind."
Mack provided e-Consulting services to Emterra, with access to strategic supplier partnerships, investigating available funding opportunities, and making key charging infrastructure recommendations to support their short- and long-term EV needs. Mack was able to support Emterra's data requirements and ability to monitor vehicle performance with the integration of dynamic charging analytics and fleet management software solutions.
Company info
1122 Pioneer Road
Burlington, ON
CA, L7M 1K4

Website:
emterra.ca
Phone number:
905-336-9084
Read more