COVANTA TARTECH commence metals recycling project in Massachusetts
Project to recover and recycle ferrous and nonferrous metal from ash monofill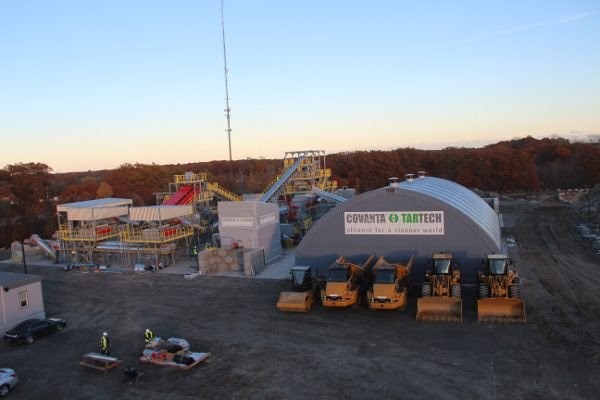 Covanta TARTECH, LLC, a joint venture of Covanta Energy Corporation, a world leader in sustainable waste management and renewable energy, and Germany-based TARTECH eco industries AG, announced in November (2013) the commencement of operations of a metals recovery and recycling system at an ash monofill located in Peabody, Massachusetts.
Originally announced in September 2012, the Covanta TARTECH joint venture utilizes a proprietary and highly specialized technology to recycle metals from ash that remains from the energy-from-waste process. The Peabody facility is the first under the partnership. Covanta TARTECH is expected to recover thousands of tons of metal that has been deposited in the Peabody ash monofill over time.
"Massachusetts is a national leader when it comes to technological innovation in recycling and waste reduction efforts, and the recovery of valuable metals from the combustion process will help to further shrink the waste stream and free-up landfill capacity," said Commissioner Kenneth Kimmell of the Massachusetts Department of Environmental Protection.
"I am pleased that our state will host a promising new technology and I look forward to observing the results."
"We are thrilled to get this innovative project with our partner TARTECH underway," said Covanta Chief Operating Officer, Seth Myones. "Recovering metals for recycling from ash monofills provides a myriad of benefits for the environment and the economy. This project will reduce greenhouse gases, save energy and return valuable natural resources back into use."
Recycling one ton of aluminum reduces greenhouse gases by nine tons and making new aluminum cans from used cans takes 95 percent less energy than using virgin materials. Recycling one aluminum can saves enough energy to keep a 100-watt bulb burning for almost four hours or run a television for three hours. For steel, every ton recycled avoids the mining of 2,500 pounds of iron ore, 1,400 pounds of coal and 120 pounds of limestone and saves 75 percent of the energy that would be used to create steel purely from raw materials. "I couldn't think of a project that suits an advanced environmentally conscious society better," said Alexander Graf von Kalckreuth, chief executive officer of TARTECH eco industries AG.
"Together we are taking one step further to creating an economy that conserves all of its important resources." "I am pleased to support Covanta TARTECH's innovative recycling project in the City of Peabody," said Peabody Mayor Edward A. Bettencourt, Jr. "Innovative projects like these lead to the creation of new, good-paying jobs and opportunities for revenue that will benefit the City of Peabody for years to come."
In 2012, Covanta's EfW facilities in North America recovered over 415,000 tons of ferrous and over 16,000 tons of non-ferrous metal for recycling – the equivalent amount of steel and aluminum needed to build five Golden Gate Bridges and produce over one billion aluminum beverage cans. With new projects like the facility in Peabody, Covanta will recover even more metal that was previously unrecoverable at Energy-from-Waste facilities and will reduce the volume of material being deposited in ash monofills.
Covanta's current metals recycling efforts prevent over 800,000 tons of annual CO2 emissions. For every truckload of metal recovered from the monofill metals recovery process, an additional 70 tons of CO2 will be avoided. This figure equates to pulling 12 cars off the road for a year.
Beyond the greenhouse gas reduction benefits from metals recycling, Covanta's energy from waste operations offer added reductions as a critical component of sustainably managing residual waste. For every ton of municipal solid waste processed at Energy-from-Waste facilities, greenhouse gas emissions are reduced by the equivalent of approximately one ton of carbon dioxide emissions. This reduction is possible due to the avoidance of methane from landfills, the offset of greenhouse gases from fossil fuel electrical production and the recovery of metals for recycling.
Related Articles
Traditionally, waste management companies have operated using a simple "management of waste" approach to operating a MRF. Throughput targets and continuous operation (minimal downtime) were the main driving forces. The industry has changed however, and the focus moving forward is now on optimizing system performance and reliability, in conjunction with increasing recycling rates and a drive for a "greener" and more sustainable tomorrow.
When considering the addition of, or upgrade to, an "intelligent" MRF, for municipalities or private operators, the main factors should always be the client's (operator) current requirements, and evolving market needs, which include throughput, reliability, output quality, and adaptability. Equally important is a full understanding of what is really expected from any proposed system. Having an engaged and focused mindset for the project with the client from the beginning, will impact and drive the entire design process. This then impacts the overall project result, through to the productive, efficient, ongoing operation of the facility itself.