How Greentec is keeping up with the evolution of used electronics
The company is taking a data-driven approach to IT asset disposition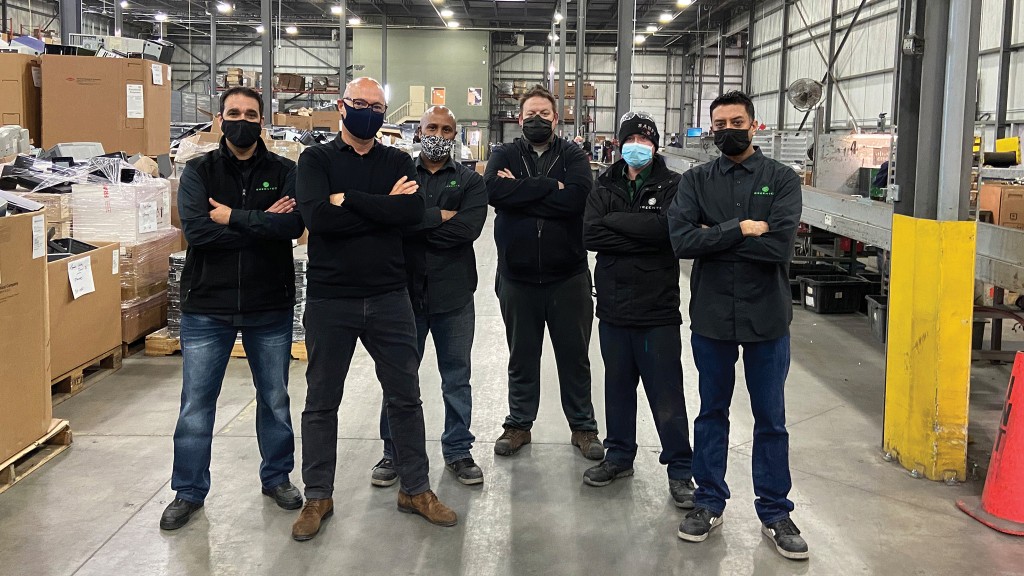 On a global scale, the way in which used electronics and IT is managed is changing rapidly. This shift is driven largely by climate change related policies and regulations meant to lessen the environmental impact of consumerism by forcing manufacturers to design their products for longevity, ability to repair, and easy recycling. This is happening slowly in the manufacturing sector, but it is happening and marks an important turning point for the entire electronics supply chain, from production to distribution, to destruction and data management.

Simultaneously influencing today's evolving used electronics management landscape is the pan-industry shift towards data-driven business and the steadily increasing demand from companies to mitigate the harm that can be caused by negligent electronic device management.

For used electronics processors and recyclers, this evolution means there is a serious need to adapt quickly, not only to a constantly changing, diverse and sometimes dangerous waste stream (containing potentially explosive batteries, for example) but also to very rapidly evolving regulations.
Leading the way on certification
Recently, Cambridge, Ontario-based e-waste recycler, used electronics refurbishment and ITAD (IT asset disposition) specialist Greentec became the first in Canada to be R2v3 certified. This latest upgrade in standards, set for the electronics industry by Sustainable Electronics Recycling International (SERI), includes requirements for heightened documentation of all retired electronic assets, data security controls, material flow management, a focus on strict compliance and accountability, and a strong emphasis on increasing the repair and reuse of devices. All of the key differentiators within R2v3 (compared to the previous R2 standard) aim to reduce risks across the electronics industry, especially when it comes to the proper destruction of data, by adding transparency through the entire supply chain.

"The electronics industry is changing at an incredibly rapid pace, and it is the responsibility of e-waste processors to stay up to date with this evolution," comments Greentec's Compliance Officer Rebecca Herman. "As the last line of defense during the destruction, recycling, and disposal of old technology, Greentec takes our clients' environmental and data security requirements seriously."

Tony Perrotta, Greentec founder and CEO, says their compliance team was key in getting certification, and notes that while it was not easy and was a great deal of work, it is an absolutely necessary component of being an e-waste recycler going forward. For R2v3, he says, the most significant change is that data security requirements have been updated.

"In the past, if it's a data-bearing device, so long as a downstream recycler is R2 certified, you could ship it to them," explains Perrotta. "You can't do that anymore. You must make sure that the recycler is R2v3 certified, because there's now different data and security requirements. We already had a lot of security requirements in place at our facility because we're NAID-certified (National Association for Information and Destruction.) We have numerous protocols, including all of our employees requiring background checks, and we have video system surveillance everywhere. The new R2v3 certification is the next step, and it takes time. It took us about two years."

For Perrotta, being the first R2v3-certified e-waste recycler in Canada reinforces the fact that their business is all about clients and customers at the end of the day.

"They need that transparency," he says. "They need to feel confident about their risk management. It's like an insurance policy for them where they have that extra layer of transparency, and they know that they're dealing with a credible, reliable, and trustworthy service provider where they don't have to worry about not getting proper documentation. They don't have to worry about what happens to the materials, how it's being managed. They also don't have to worry about whether our employees are working in a safe environment, or about their data and how it's being controlled and wiped."

He explains that the foundation of this kind of certification is really risk assessment, starting with environmental. They also do a risk assessment for health and safety, and then for physical security and data security. From there they developed standard operating procedures, training manuals, educated all employees, and then they were audited.

"The auditors come in, they spend about a week to a week and a half going through all of your policies, processes, and looking for any non-conformance to standards. They basically tell you if you're non-conformant, and then you would have to fix those problems or those areas before they give you the certification."
A data-driven approach to accountable ITAD
According to Perrotta, growth in their ITAD business is really being driven by a massive, worldwide transformation in the way companies operate.

"A lot of our commercial customers are transforming," he says. "They're getting newer technology, they are automating, they all want to be more efficient, and they are data-driven. Data is becoming critical. All of our systems, infrastructure, energy, where we get our energy from, the whole grid runs on data, and governments have been passing more, and stricter, data privacy regulations."
B.C. recently passed new and updated data privacy regulation and legislation, as did Alberta and Newfoundland, while the federal government is also in the midst of introducing new privacy legislation.

"Everything's moving towards stricter privacy regulation because everybody's connected. Data is being captured everywhere."

He says e-waste recyclers do have a unique responsibility when it comes to managing end-of-life electronics and IT, because of the data associated with it.

"Even though we're a service provider, we follow very strict standards and we have a lot of certifications. Once we are contracted to do the data destruction, we take part of the liability, because they are requiring us to do that. We have to make sure that information is destroyed completely. Still, the company which owns the data has to follow proper due diligence, and they have to do it all through their vendor selection, because, ultimately, they are the ones responsible for the proper management of the data that they control."

Perrotta explains that Greentec has been taking a new approach to accountable ITAD that guarantees data destruction, improves environmental leadership, and supports successful digital transformations.

"For us, the new approach has to do mostly with disposition mapping," he says. "We have a disposition mapping process we use that's very unique to Greentec. We go through the whole process with the client from start to finish. When we initiate the services and we initiate the logistics and the processing, everything has been mapped out. Everybody knows what needs to happen from start to finish."

He says the basic idea is to provide the most transparent and easy-to-follow map for clients. But they also have to satisfy requirements which are different from client to client.

"If you're dealing with someone in the healthcare space, they have a much higher risk, if data is not properly destroyed, based on the health and information privacy act. They have a much different requirement for data security risk versus a commercial account. For the energy sector, they follow different standards called NERC. It depends on the industry standards and what their requirements are for data life cycle management."

He says if they are working with a data centre cleanout, for example, where a client is actually replacing their data equipment, or they're merging or moving data centres, it requires a whole different type of mapping process.

Perrotta emphasizes that logistics, while critical, is a particularly challenging part of their ITAD business. "We're mostly a B2B company, so we service businesses. Some of our business clients have public drop off. Some electronics retail chains, especially in the mobile communication space, have 300 or 400 stores. They get consumers to drop off at their sites, and we collect it.

"Logistics tracks where we are going for pickups. Where is the material located? Is it on multiple floors? Where is it on the floor? Some of the buildings we collect from have 30,000 square feet per floor, so it could be in one area or in another. Often, it's multiple floors and they have freight elevators, which need to be booked. All of these logistics need to be mapped out."

Because of all of this, the software in the systems Greentec uses has to be really good at managing logistics. "Our trucks are all picking up, out doing jobs where they are either shredding devices on-site or we're picking up, or we're decommissioning entire data centres," Perrotta says. "We do a lot of sensitive, on-site services, so they need to be GPS-tracked and they need to have a chain of custody. When we're bringing back these devices with sensitive information, we need to have a chain of custody on that, and it all goes into one centralized system."

According to Perrotta, while this ITAD mapping strategy is currently unique to Greentec, it will likely catch on. "Previously, like most recyclers, we didn't have a fully integrated mapping process. We'd have one system for this, another system for that. It would be a patchwork."
Changing for climate change
From a business perspective, the biggest change Greentec has seen, especially since the start of the pandemic in 2020, is simply a huge increase in demand for refurbished used electronics.

"I would say, we have seen a 35 percent increase in the demand for reusable devices," Perrotta says. "We process a lot of phones, we do a lot of laptops, tablets, desktops, and monitors. We also process some data centre equipment, like servers and switches. Those five product types are the bulk of what we repurpose. We also do parts harvesting; we'll repurpose memory chips, CPUs, those types of components. Since the start of the pandemic there's been a huge increase in demand for all of it."

Since March 2020, Perrotta says another big change has been adapting to a whole new element of compliance requirements that have been added to their operations. They have put in safety measures to keep employees safe and properly distanced, adding new levels of standard PPE. Everybody has to wear a mask, and they have on-site temperature checks as well as COVID-19 testing.

While the pandemic has brought about changes to their operating procedures, labour challenges, and has contributed to the increase in demand for refurbished devices, a lot of the major changes happening currently in the electronics industry are being driven by climate change. He says the electronics industry has been identified as one of eight sectors with larger carbon footprints than others, in part because of how products are made and used.

"If you look at the life cycle of some of these electronic devices, especially the new monitors, the flat screens and LCD monitors, for example, they use fluorinated carbon. Fluorinated carbon uses much more carbon than a standard CRT device. There's also a large carbon footprint in the manufacturing of these devices (especially with the use of IC chips and some of the other components which are adding carbon into production) and from the entire supply chain, including mining, manufacturing, and distribution.

"The usage of devices also creates carbon emissions," he continues. "For the smaller devices (aka, endpoint devices) like mobile phones, tablets, and laptops, not as much is being generated in usage as there is on the data centre side. At some data centres, hard drives and servers are working constantly, using up a lot of energy and creating a lot of emissions. In the supply chain, it's the opposite, where the endpoint devices create more carbon emissions in the upstream supply chain, in distribution, for example, and the data centre devices create less carbon emissions upstream. Every time you are able to recover and extend the life cycle of devices, you're contributing to a circular economy and having a positive impact on GHGs."

He continues, "Climate change is driving a lot of policy, not only with governments, but also with large manufacturers. A lot of them have made commitments to be carbon neutral by a certain time, or carbon negative, and you're going to see a lot more of this happening. Climate change policy and regulations are going to be big drivers for manufacturers to produce devices that use less carbon and are more recyclable, repairable, and with extended life cycles. That's all going to come into play in the next 5 to 10 years and we're going to see a big move towards it."
The road ahead
One of the central challenges for all businesses currently is a shortage of labour.

"It has affected everybody, but I think we're fortunate that it hasn't affected us as much as other organizations. We're 85 employees, and we're hiring another 10 or 11 people this year."

He says companies today have to be more innovative in the way they attract talent, and in the way they acquire talent. "In today's labour shortage market, you really need a talent acquisition strategy. You're going to live and die by that because, if you can't get the people to do the work, you're not going to be successful."

Labour challenges are also, in part, driving a gradual shift towards increased automation in recycling, in general, though Perrotta says in e-waste, there is little being done to advance automation. "We have to literally reinvent the wheel, and reverse engineer everything that's already been engineered as a product. Automation is a lot easier to do when you're building new products, but when collecting and recycling, there's little automation to it currently."

He says while there are companies out there that sell automation solutions for e-waste recycling, if they wanted to set up an ITAD operation or recycling plant, there's even less technological support available.

Going forward, he says they will continue to focus on certifications, not only on the environmental sustainability side of the business but also on the data security side, including federal government certification.

"That is our focus going into 2022," says Perrotta. "We also are focused on having an operation that's completely carbon-neutral, and having the capability to accurately report on carbon. In 2022, we have quite a few projects on the go, that's just one of them." RPN