Edge Innovate's new mobile trommel screen is built for high-capacity screening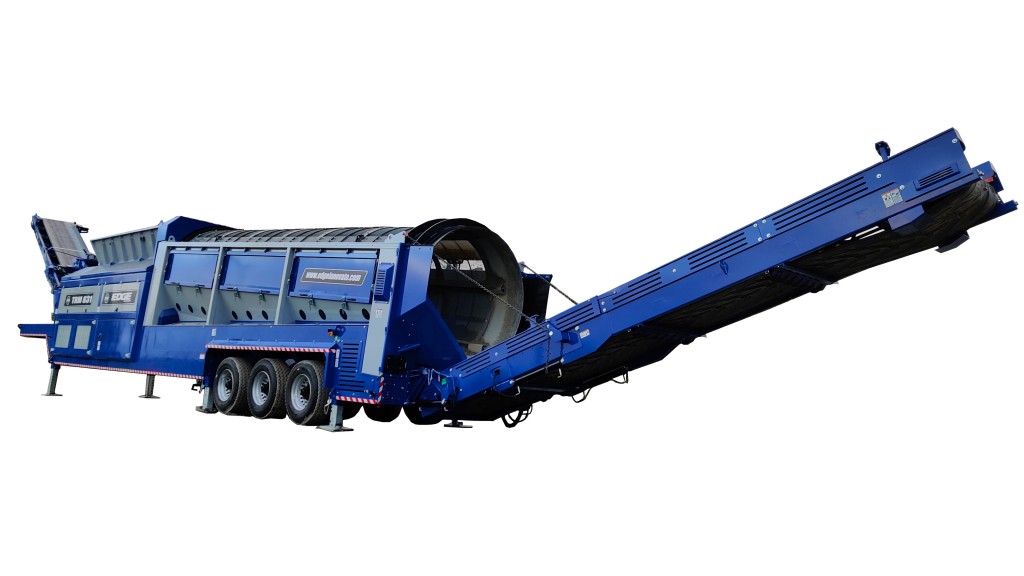 The EDGE TRM831 mobile trommel screen offers high production rates with extensive stockpiling capacities due to its end discharge conveyor design and remote 180° radial fines conveyor. The EDGE TRM831 portable trommel is ideal for the high-capacity screening of various applications including topsoil, compost, sand, household waste and construction and demolition waste.
The trommel incorporates a host of design features such as a remote 180° radial fines conveyor as standard, an eco-power saving functionality that reduces unnecessary running costs and a user-friendly HMI control panel for the easy adjustment of machine parameters. An intelligent load management system ensures that the trommel screen is always operating at optimum performance with minimal supervision.
The TRM831 mobile trommel screen discharges fines material via a radial fines conveyor with a discharge height of up to 6m (19'8"). With a 180° radial functionality as standard, the radial fines conveyor reduces the double handling of material by up to 75 percent.
A quick drum exchange is facilitated via the hydraulic sliding feeder, enabling operators to lift out the existing drum to be replaced with the various drum types available. Drum bin doors provide quick and easy access to the drum for exchanging screen media. A fully mobile fifth wheel hook-up with hydraulic folding discharge conveyors enables quick and easy transport from site to site.
Offering precise and efficient screening machinery, EDGE Innovate's product range incorporates four different class mobile trommels screens including the TR622 Series, TRT620 and the smaller TR516 Series, all of which have been designed for the screening of difficult materials. With a wide selection of chassis types, drum types, screen media and power-source configurations, operators can customize the units to suit their exact applications.