Top Lift celebrates ten year milestone as Sennebogen distributor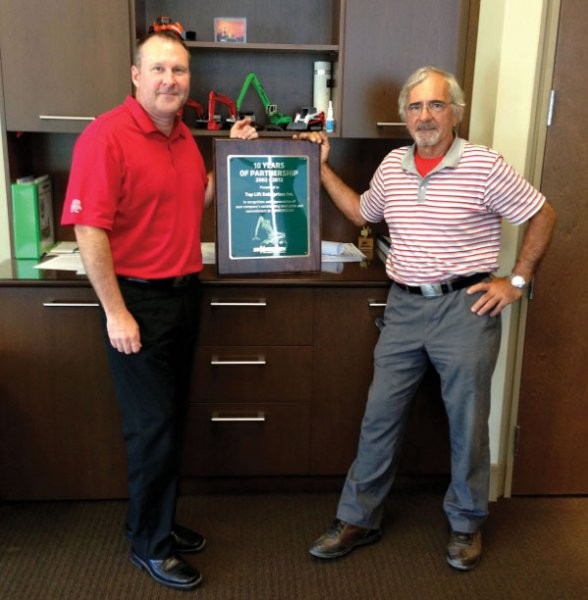 From the company's founding in 1991, Sennebogen says their commitment to serve their customers has gone beyond supplying equipment needs to actually introducing new products and solutions to customers in various industries across Canada. Nowhere has this been more evident than in the material handling sector, where Top Lift was Canada's first authorized dealer of SENNEBOGEN equipment.
"We're very used to bringing new products into Canada," recalls David Shea, Managing Director. "I liked the fact that at the time SENNEBOGEN was unknown here. We've since been able to do a lot of firsts with a lot of customers."
In October, 2013, Top Lift is celebrating a milestone 10th anniversary as a SENNEBOGEN dealer serving the Greater Vancouver, BC, Southern Ontario and Southern Quebec regions.
Sennebogen says Top Lift immediately took a leadership position both within the worldwide SENNEBOGEN network and the Canadian material handling industry by accepting the challenges, undertaking the responsibility and reducing the risk for customers that go hand-in-hand with bringing new products to a market. Having achieved ground-breaking success in the intermodal container handling business in the 1990s, Shea and co-owner Emidio Greco identified a similar opportunity in scrap handling.
"Once we started looking at this particular industry, we could see that there was going to be a big shift from how people were operating, into the use of purpose-built machines," Shea recalls. "So many of the scrap yards were using excavators and rope cranes for handling material, and we saw a good opportunity for growth."
What sold him on SENNEBOGEN, and in turn fuelled Top Lift to help sell Canada on SENNEBOGEN, was the German-based manufacturer's family-owned commitment to product innovation and support. "It always comes down to product support," says Shea. "Bad things happen all the time, and it's how the dealer and how the manufacturer reacts in those situations that makes all the difference. It's right then and there that it's decided whether or not you're going to get a second chance at selling to the customer the next time around. SENNEBOGEN has always come to the table. That's the kind of company you want to deal with for the long term."
The feeling is mutual. "It's a pleasure to have this milestone opportunity to recognize the great work that Top Lift has done in bringing our products to Canada," says Constantino Lannes, President of SENNEBOGEN LLC.
"The integrity of David, Emidio and the entire Top Lift team is exemplified in how they earnestly approach every single challenge. Having much like ourselves earned so many industry-first accomplishments, they are proof-positive of what can be accomplished with great attitude, effort and commitment."
Having recently branched out with brand new headquarters in Stoney Creek, adjacent to Hamilton, Top Lift Enterprises currently has five facilities offering multiple leading product lines in three industries: heavy industrial, construction and intermodal. Last year alone, the company added two branches.
Diversification by branching out is the key to the company's success, says Shea. "It is absolutely the best move we have ever made," he says, "and it will be the strength of the business moving forward."
This willingness to consider options and not close off business opportunities is in lock-step with the material handling equipment customers Top Lift has itself introduced the SENNEBOGEN product line to. These end-users, too, have been likewise open-minded.
"Selling a machine you have in stock is all fine and dandy, but those are typically very tight deals," explains Shea. "But when you get with a customer who has great imagination, willing to innovate further and save money long term by investing in the product and how that product is going to work… those projects are very exciting. And we're doing pretty special things all the time."
SENNEBOGEN has been a leading name in the global material handling industry for more than 60 years. Based in Stanley, North Carolina, within the greater Charlotte region, SENNEBOGEN LLC offers a complete range of purpose-built machines to suit virtually any material handling application.