Technology helps charities better manage recycled clothing donations and sales
"Smart" software developed for Mid-West Textiles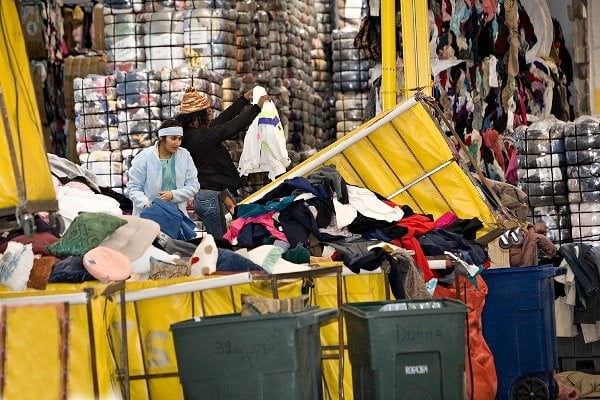 The clothing and textile recycling industry is not known for utilizing technology, however, a software application developed by a for-profit clothing recycling company is helping major charities better manage their inventories.
During the past 30 years, Mid-West Textiles has grown into one of the largest for-profit clothing recycling companies in the United States. As the company grew, so did its interaction with major charitable organizations that collected and re-sold used clothing. In response to the charity's needs for better inventory management, the Mid-West Technology Group was founded and began developing its Retail Inventory Management System (RIMS).
Using the RIMS software and tag technology, a charity is able to track information such as donation rate and amount of material processed, the amount of goods received that enter the retail sales stream, and the amount of materials being received at the processing location from outside sources. The inventory management portion of the application allows the monitoring of goods within a facility from receiving, to retail floor, to salvage bundling if unsold.
"Many of our clients see a significant reduction in the amount of materials being stolen after installing a RIMS system," says John Paben, President of Mid-West Textiles. "Even though they are charitable organizations, they benefit greatly from the detailed information the RIMS platform gives them on inventory received, item pricing, sales, inventory aging, and pilferage."
One of the biggest issues facing a charitable organization that received clothing donations is placing a fair-market value on an item before putting it into its retail outlet. The RIMS system includes touch-screen technology that allows employees to quickly-and-efficiently determine the value of an item, place it into an inventory "category", and to track price changes and/or sale.
Paben says modules are available to be added to the RIMS system that allow an organization to capture data on those making donations, to track sales using an items UPC code, and to execute discounting strategies from single items to store-wide using the centralized software system.
"This is a great example of how the for-profit clothing recycling industry is working hand-in-hand with our charitable partners," says Jackie King, Executive Director of the Secondary Materials and Recycled Textiles Association. "So many times our member companies are seen as competing with charities, while in fact we regularly work with them as is the case of members such as Mid-West Textiles and its technology team."
Secondary Materials and Recycled Textiles (SMART) is the leading industry voice promoting high standards and best practices for reducing solid waste by recycling textiles and related secondary materials. Association members collect, reclaim, and "close the loop" by processing, converting, and distributing these recyclables.
The following link leads directly to informational videos on textile recycling http://www.smartasn.org/about/videos.cfm.
To download the iRecycle app visit www.Earth911.com. The app allows users to find clothing and textile recycling drop-off locations in their area.