How screen classifying cutters can outperform hammer mills and knife cutters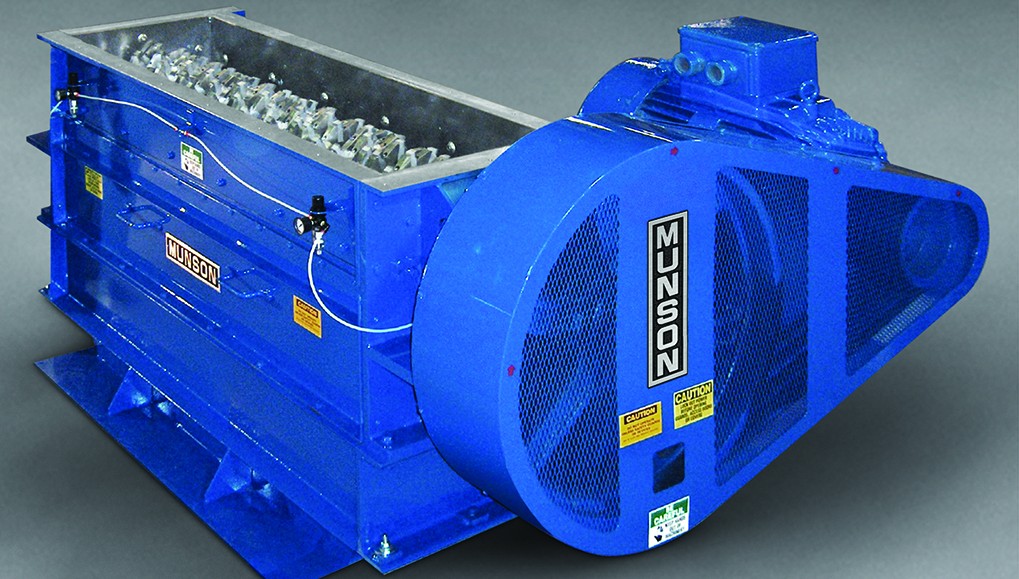 Screen classifying cutters combine the shear of a knife cutter with the impact of a hammer mill at high speeds. Used in recycling, food processing and a range of industrial applications, this technology is ideal for reducing friable, semi-friable, fibrous, semi-hard and hard materials into controlled particle sizes at high rates with minimal fines.
Like knife cutters, screen classifying cutters shear material against bed knives, but they can handle a greater diversity of materials and retain sharpness far longer. At medium to high speeds, they additionally impact material similar to a hammer mill, but add the flexibility of variable RPM for greater control of particles sizes.
As a result, according to Munson Machinery Company, screen classifying cutters are often more effective than either machine at reducing friable, hard and fibrous materials into uniform particle sizes, from 6 in. (15 cm) down to 20 mesh or less, with fewer fines and/or less heat generation.
How the screen classifying cutter works
The infeed throat on these machines houses a horizontal rotor comprised of tightly-packed, staggered parallelograms or "stars," each of which holds cutter tips that shear materials against twin stationary bed knives at lower rotor speeds, and additionally impart high impact at higher RPM. The rotor design generates many times greater force per inch with each cut than a conventional knife-type cutter of equivalent horsepower.
As material enters the infeed chute, it is subjected to successive mechanical shearing against the bed knives until small enough to pass through the screen apertures, the size of which determines residence time. The result is uniform, coarse grinding down to 20 mesh with minimal fines or heat generation, and reduced energy use.
Other machine features include rotors that can range in length from 10 to 72 in. (25 to 183 cm), and its geometry can be adapted to optimize the application. Standard screen classifying cutter models have an 11 in. (28 cm) wide infeed throat that houses a 10.5 in. (26.7 cm) diameter horizontal rotor comprised of tightly-packed, staggered parallelograms, each of which holds two, half-inch wide (1.3 cm wide) cutter tips. An ultra-heavy duty Magnum version with 22.5 in. (57 cm) wide infeed throat has an 18 in. (46 cm) diameter rotor comprised of 4-sided "stars," each of which holds four one-inch wide (1.3 cm wide) cutter tips, boosting capacity by approximately 75 percent and accommodating larger infeed sizes.
A range of applications for screen classifying cutters
Available in food-grade, industrial and abrasion-resistant finishes, and in a range of sizes from mini laboratory units to ultra-large units, six feet in length, screen classifying cutters can mince, crush or crumble a range of materials including soft, moist, sticky, medium-hard, fibrous, or friable, offering great flexibility in size reduction.
Typical applications include reducing a broad range of scrap materials, plastics, batteries, brake pads and compounds, fiberglass insulation, filter cake, gypsum, ceramic honeycomb filter media, carbon/aramid fiber, leather, glass bottles, trim stock, wood products, as well as bulk foods, spices, sugar cane and hemp stalks, tobacco, chemicals, clays, coal, minerals and detergent blocks.
Recycling plastic scrap, reducing maintenance
A major plastics thermoformer, whose operations include sheet extrusion and calendering, installed 20 screen classifying cutters to assure efficient granulation and sizing of its process scrap.
The company runs the cutters at full capacity during production runs to deliver properly-sized granulate for processing. The Screen Classifying Cutters replace units that required frequent blade changes and could not keep pace with the high production rates.
The cutters have a 15 in. (38 cm) wide infeed throat and 1/2 in. (1.3 cm) cutting blades with carbide tips. The blades are designed to slide onto each machined holder and be screwed into place. Changeover requires minimal downtime.
Scrap from the extruders and a calendaring line ranges in thickness from 0.008 to 0.04 in (8 to 40 mils). The scrap is pneumatically fed to the cutters in a continuous operation that runs 24/7. Each cutter processes at a rate of 250 lb/h (113 kg/h).
The Screen Classifying Cutters in this example have enabled this thermoforming plant to reduce the size of process scrap in the required capacity, with the uniformity needed to reprocess the material efficiently, improving efficiency of the operation.
Comparing the options in size reduction
Hammer Mills and Knife Cutters are often default choices for size reduction due to their long term existence, familiar names and broad capabilities. However, the range of applications they can satisfy efficiently is narrow. Indeed, many Hammer Mill users sacrifice particle size control and excessive fines, while many Knife Cutter users are resigned to frequent shutdowns for re-sharpening of blades that quickly lose their edge. In these and other situations, plant engineers would do well to test their material on a Screen Classifying Cutter side-by-side with a Hammer Mill and/or Knife Cutter in manufacturers' test labs. Only in this way can he or she quantify the difference in efficiency, output and product quality afforded by each machine, and reap performance benefits over the long service life of the ultimate purchase.