Recycling Council of Alberta hosts another successful annual event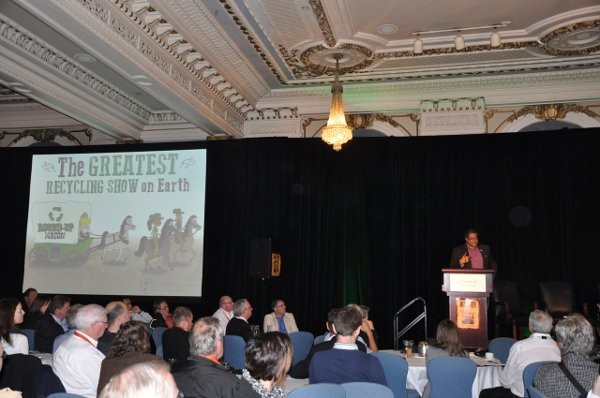 Held at the Fairmont Palliser Hotel in Calgary, October 2-4, the 2013 edition of Recycling Council of Alberta's Annual Waste Reduction Conference, saw over 300 delegates and featured thirty exhibits from companies involved in waste management and recycling in Alberta.
This year's conference kicked off with tours of ECCO Waste Systems' C&D MRF as well as DIRTT Environmental Solutions Ltd., a custom prefab construction company.
Conference delegates were treated to a welcome from Calgary Mayor Naheed Nenshi, who reflected on the challenges presented by the recent flooding, and where Calgary is going with its waste reduction programs. Inspirational keynotes from Mark Lichtenstein (Center for Sustainable Community Solutions) and Helmi Ansari (PepsiCo Foods Canada) were combined with session topics ranging from measurement to social marketing, and a variety of topics in between.
This year's event also featured RCA's renowned social functions, including Stampede events (chuckwagon racing, roping, quick draw, barrel racing) at the opening reception, and a gala BBQ and Barn Dance.
The Recycling Council of Alberta's 2014 Waste Reduction Conference will be held October 1-3, 2014 at The Fairmont Chateau Lake Louise.
Visit www.recycle.ab.ca