Digital platform from Kleemann optimizes control options of crushing plants via smartphone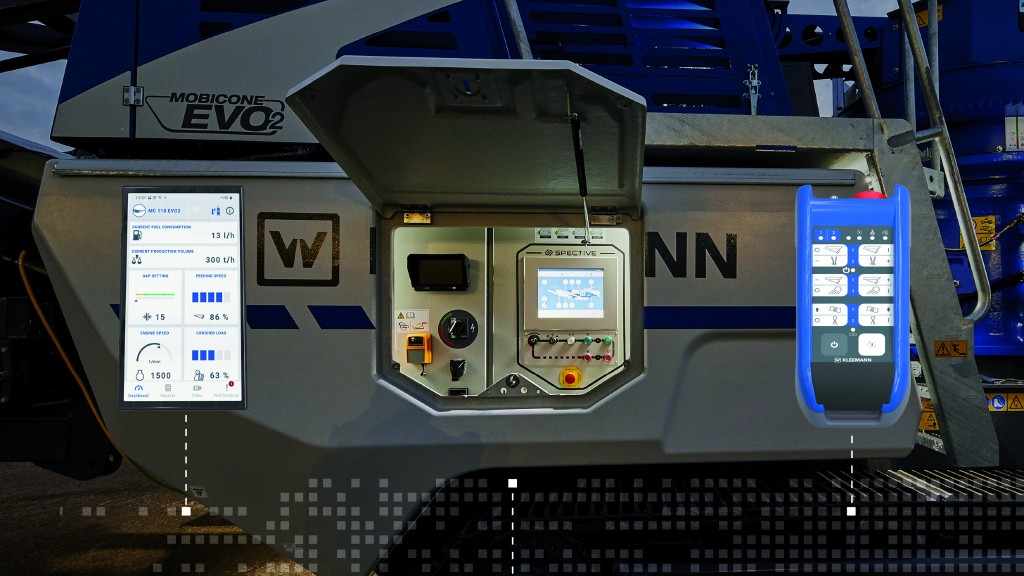 The digital operating platform SPECTIVE, from Kleemann, has optimized the control options of crushing plants. With the SPECTIVE CONNECT extension, all relevant process information and reporting can now be displayed on a smartphone without having to leave the feeding device.
The plant is started via the 12-inch SPECTIVE touch panel directly at the plant. The intuitive operating concept makes it easy for users to make the necessary settings. Once it has been set, the plant then runs in automatic mode.
When a plant train is used, the operator can connect to the complete plant train and not only with each individual plant. As a new feature in the SPECTIVE world, the radio remote controls have been integrated. Using the large radio remote control, the plants are moved from the low loader and the setup procedure can be carried out conveniently and at a safe distance from the machine. The small radio remote control can be used to execute all relevant functions comfortably from the excavator.
Diesel fill level, average fuel consumption, average plant performance, gap setting, utilization rate and other important process data can be displayed at any time via the dashboard. In most cases, operators no longer have to leave the cab or interrupt the ongoing process. Operators can see the machine utilization rate at a glance and can thus regulate loading. They can also receive data on the daily output already achieved and also compare it to the previous day and more.
SPECTIVE CONNECT from Kleemann is currently available as an option for the new jaw crushing plant MOBICAT MC 110(i) EVO2 and the new cone crushing plant MOBICONE MCO 90(i) EVO2. Future SPECTIVE-equipped machines will be equipped or retrofitted with this gradually.