Coperion twin screw extruders process PET flakes without pre-drying into pellets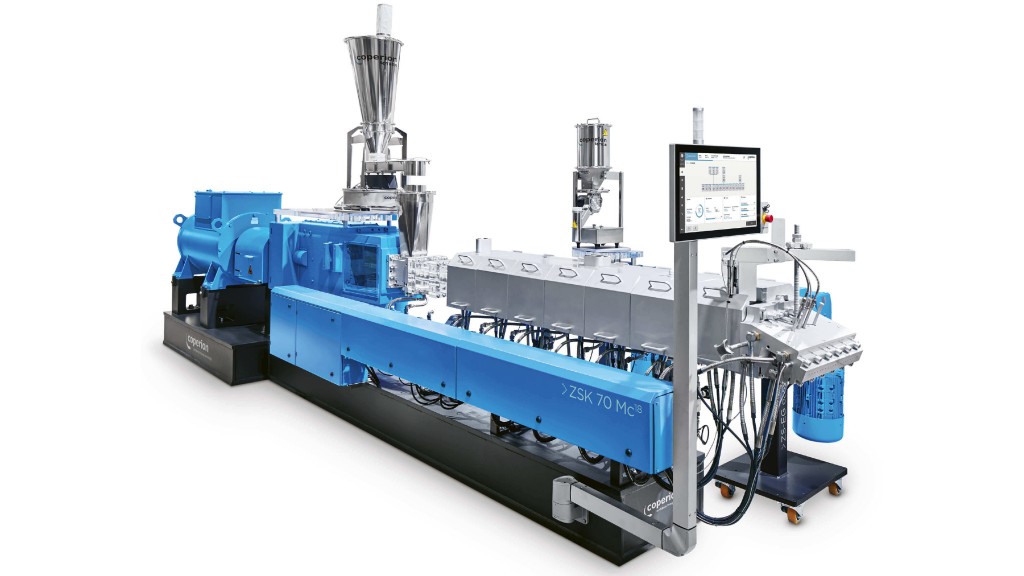 PET flakes can now be processed without pre-drying into pellets using Coperion ZSK twin-screw extruders. They are then condensed in the SSP (Solid State Polycondensation) reactor, and reprocessed back into bottles again with the quality of virgin material.
PET recyclate manufactured using this process has received approval from the United States Food and Drug Administration (FDA) for food-contact uses. Due to the efficient plastification within the ZSK extruder, Coperion systems for this bottle-to-bottle recycling process achieve throughput rates between 2 and 8 tons per hour, generating profit from high product quality, reduced operating and logistic expenses as well as from energy cost savings up to 30 percent in comparison to conventional PET recycling methods.
Increasing the efficiency of bottle-to-bottle recycling
PET plays an important role in recycling due to the large volume of packaging materials in use today. PET is a high-value material, possessing good properties for reprocessing. Its continuously expanding use in single-use and reusable bottles, as well as its recovery via deposit systems, add to its value.
Before PET can be reprocessed, it must first be shredded to flakes and then cleaned. Ordinary technologies require pre-drying, crystallization, or agglomeration of the PET flakes following washing. However, using technology from Coperion, the shredded PET can be fed directly into the ZSK twin screw extruder and compounded.
The shredded flakes are fed into the ZSK extruder using high-accuracy SWB (Smart Weigh Belt) feeders or gravimetric feeders from Coperion K-Tron. In addition, other regrind materials, new materials, or mixtures can be added. Melting, intensive devolatilization, and complete homogenization take place in the ZSK process section before the melt is transferred via a gear pump and filter with an automatic screen pack changer to a strand or underwater pelletizer for pellet production. Pellets are then condensed in an SSP reactor.
Related Articles
Traditionally, waste management companies have operated using a simple "management of waste" approach to operating a MRF. Throughput targets and continuous operation (minimal downtime) were the main driving forces. The industry has changed however, and the focus moving forward is now on optimizing system performance and reliability, in conjunction with increasing recycling rates and a drive for a "greener" and more sustainable tomorrow.
When considering the addition of, or upgrade to, an "intelligent" MRF, for municipalities or private operators, the main factors should always be the client's (operator) current requirements, and evolving market needs, which include throughput, reliability, output quality, and adaptability. Equally important is a full understanding of what is really expected from any proposed system. Having an engaged and focused mindset for the project with the client from the beginning, will impact and drive the entire design process. This then impacts the overall project result, through to the productive, efficient, ongoing operation of the facility itself.