Bringing end-of-life aircraft recycling into focus
AFRA leads the way through accreditation and release of best practices guide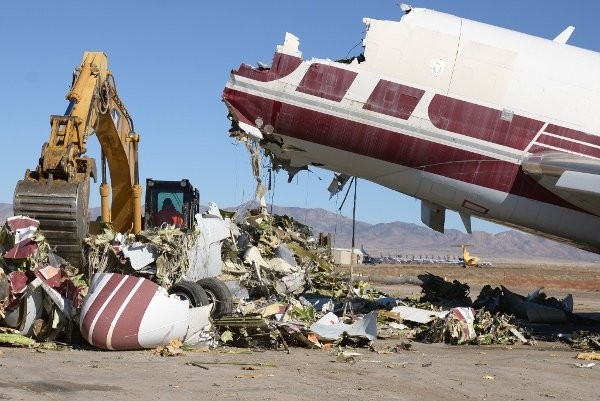 by Martin Todd (with contribution from Keith Barker, Editor, RPN )
The recycling of aircraft materials has come into greater focus in recent years, due in large part to the increase in the number of aircraft which are reaching the end of their working life. Aircraft manufacturers estimate that up to 44 percent of the global fleet will reach end of life in the next two decades, amounting to more than 13,000 commercial, military and private aircraft. This includes an annual retirement of more than 400 civil and larger commercial aircraft (planes with capacity for at least 100 passengers).
These figures alone present ample opportunities for those operating in the aircraft dismantling and recycling sector. Global accelerated fleet renewal is rapidly increasing the demand for the services of those working in the aircraft end-of-life sector. Airlines now favour newer, more fuel efficient aircraft due to the higher fuel burn costs, which can account for up to 60 percent of total operating costs – up from 30 percent of costs in the not too distant past. New generation aircraft can reduce fuel burn cost by more than 20 percent; this is clearly a key driver for accelerated aircraft replacement.
Best practices
The Aircraft Fleet Recycling Association (AFRA) is an international organization that has led the way in actively promoting best practice in both aircraft dismantling and recycling. The most recent release of its Best Management Practice (BMP) Guide, launched at the 2013 Institute of Scrap Recycling Industries convention, deals specifically with aircraft materials recycling.
The AFRA BMP guide provides best practices and practical solutions for all those working in the field of aircraft parts and materials recycling, and the accompanying independent audit and AFRA accreditation program assures that facilities operate in a safe and environmentally responsible fashion, while allowing businesses to find sustainable solutions for themselves and their customers. The aircraft materials recycling guide has been developed by AFRA members whose businesses span the commercial aircraft life cycle, from original equipment manufacturing, through maintenance, leasing and operations, on to end-of-service disassembly, parts recovery and aircraft materials recycling.
Aircraft recyclers represent a growing proportion of AFRA membership. The BMP guide helps them capture maximum value from aircraft which have reached the end of revenue service, by increasing the amount of materials that can be recycled and raising the overall residual value of the high-grade materials used in aircraft manufacturing.
AFRA is the only global independent body promoting environmental and sustainable accountability within the aircraft end-of-life sector. Since its creation in 2006, it has grown from 11 to 71 members and has managed the accreditation of 23 different organizations in both aircraft dismantling and materials recycling, a process which takes place by following AFRA's Best Management Practice (BMP) Guide.
According to AFRA's Executive Director Martin Fraissignes; "With the publication of AFRA's aircraft materials Best Management Practice Guide, both industry and the market can be guaranteed that strict, professional and responsible aircraft materials recycling be promoted and appreciated throughout the sector. This is why companies increasingly insist on dealing with AFRA-accredited members when they issue tenders on aircraft which have reached the end of their service life."
AFRA launched its first BMP Guide in the summer of 2008. This first Guide primarily dealt with aviation safety as well as environmental best practice around aircraft disassembly and parts removal. The second version of the BMP came out in May 2009, and amalgamated best practices for dealing with engine dismantling and parts disposal. This was incorporated into the earlier BMP on airframe disassembly. The latest version also gives a new and clear definition of an "air-worthiness event", setting out in detail the circumstances under which the industry feels it appropriate to convey information about the past history of parts.
Industry accreditation
So far six companies have been accredited specifically for aircraft materials recycling. Netherlands-based Aircraft End-of-Life Services (AELS) is one of two companies to have dual accreditation for both its aircraft dismantling and aircraft materials recycling activities. (Aircraft dismantling, as opposed to aircraft recycling, refers to "the removal of parts for reuse".)
"Having our recycling independently accredited through the AFRA BMP Guide, and thus assessed and approved by an unbiased third-party auditor, means that we now have clear evidence that this part of our business conforms to the highest industry standards, which is a clear benefit to us," says Derk-Jan van Heerden, founder and General Manager of AELS.
He adds; "This should convince potential prospects to respect and trust the quality of our recycling activities and create more business opportunities in this area."
The other company currently with dual accreditation is Minnesota-based Aircraft Demolition LLC. Their CEO, Tim Zemanovic, says that AFRA accreditations have set the standards for the aircraft disassembly and recycling business, and that the standards have really helped address processes and improve on his company's business model.
"More and more companies are requiring the accreditations in order to do business with them and this has certainly opened new opportunities for us," says Zemanovic.
The process of recycling end-of-life aircraft
Since 2006, Aircraft-End-of-Life Services (AELS) has been in the business of dismantling and recycling of end-of-life aircraft. According to company founder Derk-Jan van Heerden, you can compare the recycling of an aircraft to a combination of home demolition, ship recycling and car recycling.
"Home demolition because we use the same equipment in the process of making the airframe smaller," says van Heerden. "For example, we'll use a caterpillar track (tracked material handler or other carrier) with a hydraulic shear."
He continues; "It compares to ship recycling because we're talking about a high quantity of metal. And I would say it compares to car recycling because after the airframe has been chopped into pieces, it enters the same machines and sorting mechanisms as is being used for the recycling of cars."
On average, approximately 30 to 50 percent (by weight) of the material and components in an end-of-life aircraft are reused. This includes everything from landing gear to instruments, to entire cockpits which are reused as simulators.
According to van Heerden, the amount that is reused depends on various factors, including the number of a particular airframe's model type that have already been disassembled and processed.
"For example, if you are disassembling the first A380, which nobody has done so far, you take every part because there are not enough spare parts on the market, and there are still more (airplanes of that model) being made," he says. "But if you already have 50 of one aircraft model flap in warehouses around the world, then the removal of that part will not pay off because the demand is not there."
From everything that is left after reusable parts are removed, approximately 80 to 90 percent is recyclable. By weight, the average aircraft is somewhere around 80 percent aluminum. Other metals in the typical airframe include stainless steel, nickel-cobalt alloys and titanium. Plastics, by weight, make up only about five percent.
Sometimes, if a plane is unable or too expensive to be flown to their site, AELS travels to a remote site where the plane is situated. Most often though, an airplane's last flight brings it to a recycler like AELS.
"The airplane comes in, then we do an inspection to see if it is as we expected. We make notes and take pictures of certain issues that are either damaged or missing or replaced," explains van Heerden. "Then the whole process of what we call 'disassembly' starts, removal of parts, which also includes removal of fluids like remaining fuel and hydraulic liquid, and the toilet system needs to be cleaned."
"Next we remove everything that is non-recyclable, and cannot be processed in a shredder," he continues. "A typical challenge is isolation blankets (the polyester blanket used to provide sound isolation and density in the walls of a plane.) These are not very fun to have in a shredder. They need to be removed manually."
Van Heerden says it is at this point as well that any whole parts are removed, such as the entire cockpit, or a piece of wing that is destined for use as a table. Additionally, parts containing certain high alloy metals, such as titanium ducting, are removed at this stage. Generally, the high alloy metals are reused in the aviation sector.
"And then the shears come in (mounted on a typical material handler.) They chop up the airframe into 1x1-metre size pieces."
"Then, once we've cut the metal to 1x1 metre, it goes into containers and to a standard recycling facility."
Van Heerden concludes; "Going through the accreditation process and adhering to the AFRA aircraft materials recycling BMP was an interesting and creative process. We had thought that our activities were already at the standards in the BMP Guide but we found out that some of our practices and procedures could in fact be improved, with a few changes."
Martin Todd is the Communications Manager, Aircraft Fleet Recycling Association.
Company info