Renew ELP to begin construction on world's first commercial-scale plastic recycling plant to use hydrothermal upgrading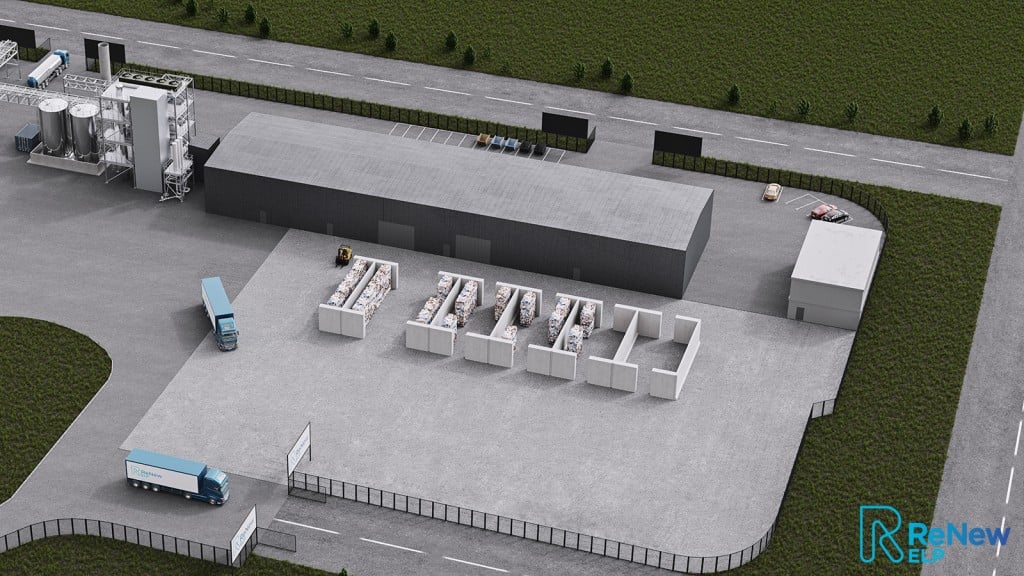 Plans to build the world's first commercial-scale plastic recycling plant in Teesside, England, using innovative hydrothermal upgrading technology have taken a major step forward.
Advanced recycling company ReNew ELP - based in the UK at the renowned Wilton Centre - has appointed Wood, the global consulting and engineering company, as its engineering, procurement and construction contractor on the multi-million pound project, and work on this innovative site will start later in the Spring.
The first phase will see the construction of one of four HydroPRS recycling lines, each able to process 20,000 tonnes of plastic waste per year. The remaining three lines will follow in quick succession.
On completion, the plant will recycle 80,000 tonnes of waste plastic, including packaging items such as flexible films, pots, tubs and trays which - until now - have been considered unrecyclable. They are currently incinerated, sent to landfill sites or end up in the environment as plastic pollution. It is estimated that each year around 8 million tonnes of plastic waste finds its way into the world's oceans.
The plant will be built on the site of the former Invista Textiles plant at Wilton International, with the construction phase creating up to 80 jobs. A further 30 people will be employed when it starts operation in late 2022, with more jobs created as additional production lines are added.
ReNew ELP's plant will use a ground-breaking advanced recycling process called HydroPRS (Hydrothermal Plastic Recycling Solution) developed by UK-based Mura Technology, ReNew ELP's parent company. Mura's ambition is to see a 1 million tonne global, annual recycling capacity in operation or development by 2025, with the plant at Wilton being the first commercial-scale operation of HydroPRS.
HydroPRS uses water in the form of supercritical steam to convert plastics back into the chemicals and oils from which they were made, the equivalent of fossil resource. These products can then be used in the manufacture of new plastics and other materials. The conversion process takes approximately 25 minutes.
There is no limit to the number of times the same plastic can be recycled using HydroPRS, entering plastic into a circular economy and helping to reduce plastic pollution.
ReNew ELP's managing director Richard Daley said: "We are delighted to announce our partnership with Wood which marks one of the most significant stages in this vitally important project.
"We'll soon see construction start on the plant - which will be the first of its kind in the world. This milestone, coupled with the Teesside plans announced recently by the Chancellor, makes this a very exciting time for ReNew ELP and its partners. The development of this first site marks a landmark event for both the recycling industry and the environment."
In October 2020, the ReNew ELP project was awarded a £4.42 million grant from Innovate UK, the UK's innovation agency, with Environment Minister Rebecca Pow MP highlighting the importance of "investing in these truly ground-breaking technologies" and emphasising the government's commitment to the reuse of waste plastic.
In March 2021, advanced recycling was for the first time recognized as contributing to government targets for recycled plastics and supporting measures such as the proposed plastic tax for recycled content in packaging.
Related Articles
Traditionally, waste management companies have operated using a simple "management of waste" approach to operating a MRF. Throughput targets and continuous operation (minimal downtime) were the main driving forces. The industry has changed however, and the focus moving forward is now on optimizing system performance and reliability, in conjunction with increasing recycling rates and a drive for a "greener" and more sustainable tomorrow.
When considering the addition of, or upgrade to, an "intelligent" MRF, for municipalities or private operators, the main factors should always be the client's (operator) current requirements, and evolving market needs, which include throughput, reliability, output quality, and adaptability. Equally important is a full understanding of what is really expected from any proposed system. Having an engaged and focused mindset for the project with the client from the beginning, will impact and drive the entire design process. This then impacts the overall project result, through to the productive, efficient, ongoing operation of the facility itself.