Stationary pre-shredders for plastics recycling
An equipment roundup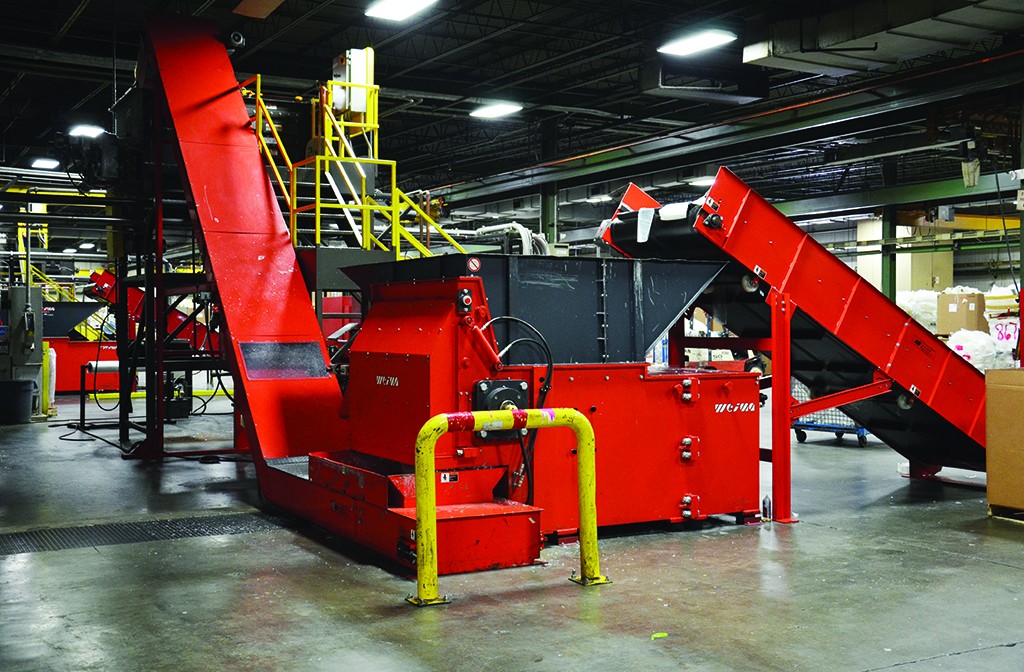 In today's volatile markets for recycled plastics, where demand for extremely high purity is the norm, and many overseas markets are closed to all but the purest of recovered material, recyclers more than ever need to produce uncontaminated, homogeneously sized product, with more efficiency, and with higher average throughputs.
At the MRF or other recycling facility, adding in a pre-shredder when processing plastics can improve wear life substantially on a primary shredder's costly castings, protect against unshreddable or explosive materials, and reduce peak power loads.
WEIMA single-shaft shredder
The WLK 15 single-shaft shredder (shown above) is WEIMA's most common pre-shredder for plastics recycling applications. These machines are highly customizable and are ideal for use in conjunction with a granulator, or as a standalone unit. According to WEIMA, the WLK-15 is equipped with large infeed openings and hopper capacities, and are incredibly versatile, with a variety of rotor types, knives and screen sizes available, specified to suit various types of plastic. In addition, the WLK series rotor, which shreds material until it can fall through the desired screen size, can be "chilled" by running water through its centre to process plastics with low melting points.
__________________

Herbold for three-tons per hour size reduction
Herbold's EWS 60/210 single-shaft shredder, introduced in 2019, is specifically designed for the pre-shredding of baled, bulky or other hard-to-process plastics including film, agricultural film, mixed plastics, and die drool. Units can process up to three tph, and feature wet or dry capability.
Because the EWS 60/210 is often used in the first stage of a plastics recycling line where foreign bodies are commonly present, these units feature a well-protected rotor with bolted armor plating to eliminate the need for frequent re-welding. Plus, an integrated clutch mechanism protects the rotor and other key components if an unshreddable foreign body should enter the destruction chamber.

In operation, large items or bundles are fed into the unit's hopper by a forklift or optional infeed conveyor. Material falls onto the 23-1/2-inch diameter rotor and a feed guide device helps it maintain positive engagement with the rotor for maximum shredding efficiency.
______________
SSI Pri-Max primary reducers
SSI's PRI-MAX line of primary reducers and shredders is ideal for pre-shredding and primary shredding of plastics and a wide range of materials. The PRI-MAX PR4200 (shown here) uses a hydraulic drive which offers maximum drivetrain protection, quick reversals, and high versatility in tough applications. These machines feature aggressive cutters that grab, pierce and break material while processing in both forward and reverse. Plus, a patented cartridge table design allows the entire assembly to be replaced without the need to remove the drive group, bearings or hydraulic connections, and a stackable shaft is removable and reusable with configurable wear parts that can be replaced when needed.

Application-specific feed hoppers are available, as well as multiple output size options for shredding a wide variety of material to required specifications and an advanced Programmable Logic Controller (PLC) which constantly monitors machine operation.
______________

Metso PreShred uses open cutting table
Metso's M&J PreShred uses an open cutting table to reduce wear to the bare minimum and allows for bi-directional shredding that results in a consistent flow of shredded material onto downstream conveyors. According to Metso, bi-directional shredding allows for equal speed and torque which reduces wear and improves shredding capability and capacity. Plus, this machine's asynchronous system keeps waste constantly moving and includes an aggressive knife design, no pushing device required; a central lubricating system as standard; and a power pack and cutting table that can be mounted separately to keep more delicate components away from dust. In addition, these shredders feature automatic reversal if knives encounter large or tough steel or cement objects and a user-friendly PLC control system.
______________

VECOPLAN low-speed, high torque
Vecoplan's VAZ single-shaft shredder features low speed, high torque and double side walls that allow material to freely fall, providing a longer life cycle on bearings. A range of rotor options are available for material adaptability, and screens swing up for easy rotor access, and easily rotate to prolong life. VAZ single-shaft shredders are available in multiple sizes and duties to accommodate most recyclers' operations.

Additional key features include adjustable counter knives to maintain optimal cutting tolerance and user-friendly controls for easy operation.
______________

UNTHA high-performance single-shaft
UNTHA recently launched the UNTHA CR - a high-performance single-shaft plastic shredder, specifically engineered for complex applications. The CR shredder has been designed with flexibility in mind, and is highly configurable for pre-shredding of difficult plastics and to process post-consumer plastic bales and almost everything in between (e.g. mixed rigid plastics, agricultural film and more).
These shredders combine versatile cutters and a sturdy direct-drive system with high-torque motors (75, 90, 110 or 132 kW). The drive system includes a safety clutch, and internal pusher system for high throughputs, and because it is direct-drive, it eliminates the need for a belt, which means reduced wear and maintenance. RPN
This Equipment Roundup was originally published in the March 2021 edition of Recycling Product News, Volume 29, Number 2.
Related Articles
For C&D recyclers, waste haulers, demolition contractors and landfills, there is a growing opportunity to profit from rethinking processes. Although every operation is different, by streamlining the front end of the C&D operation processes with purpose-built technologies, recyclers can tap into new end markets, accommodate higher material volumes, stay ahead of regulatory restrictions, increase recovery rates and add commodity revenue, while decreasing labor and other costs.
Download the new eBook to learn about:
Finding opportunities in the alternative to landfilling C&D
How facilities can increase their profits from C&D
Using the right C&D processing technology in the right locations