Liquibox introduces recycle-ready beverage bag-in-box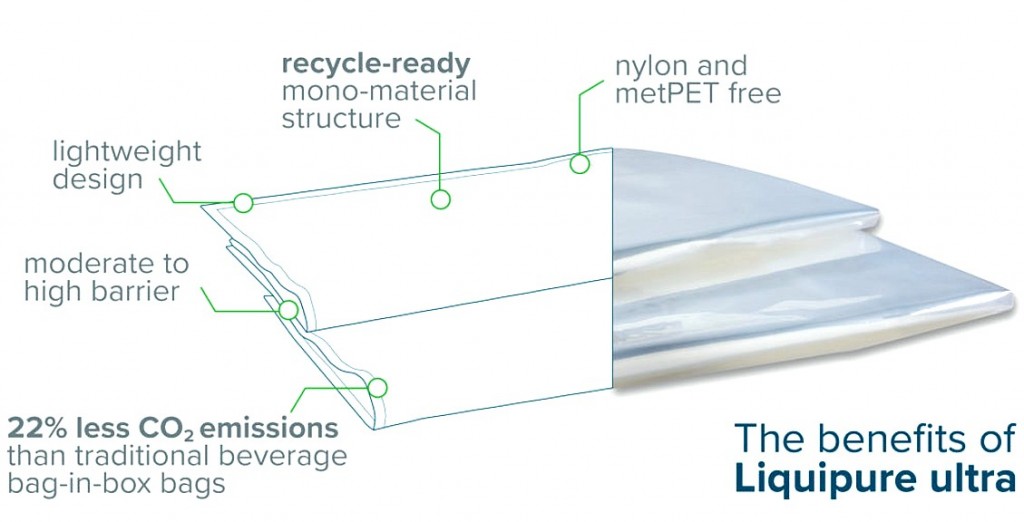 Following the recent launch of Liquipure, a new portfolio of sustainable flexible packaging, Liquibox introduces Liquipure Ultra: a recycle-ready bag-in-box bag specially designed for medium to high barrier applications.
For decades, products such as post-mix syrups, boxed water and boxed oils required multi-material laminates with nylon or metallized polyester for barrier strength, but the complicated structure makes the packaging extremely difficult to recycle.
Liquibox's new recycle-ready packaging uses advanced resin technology that is ultra-strong to provide reliable product protection, and yet sustainably simple, as the company calls it, to meet recyclability guidelines.
Liquipure not only improves recyclability, but the mono-material structure also offers other sustainability benefits such as a 22 percent reduction in greenhouse gas emissions when compared to traditional beverage bag-in-box bags.
Liquipure Ultra has already been successfully introduced into the post-mix syrup market, and Liquibox is currently working with customers to offer Liquipure Ultra for higher-barrier applications such as wine, juice, and aseptic foods. At this time, Liquipure Ultra is available in the U.S. and will reach European customers early in 2021.
Related Articles
Traditionally, waste management companies have operated using a simple "management of waste" approach to operating a MRF. Throughput targets and continuous operation (minimal downtime) were the main driving forces. The industry has changed however, and the focus moving forward is now on optimizing system performance and reliability, in conjunction with increasing recycling rates and a drive for a "greener" and more sustainable tomorrow.
When considering the addition of, or upgrade to, an "intelligent" MRF, for municipalities or private operators, the main factors should always be the client's (operator) current requirements, and evolving market needs, which include throughput, reliability, output quality, and adaptability. Equally important is a full understanding of what is really expected from any proposed system. Having an engaged and focused mindset for the project with the client from the beginning, will impact and drive the entire design process. This then impacts the overall project result, through to the productive, efficient, ongoing operation of the facility itself.