Greys closes the loop on paper and textiles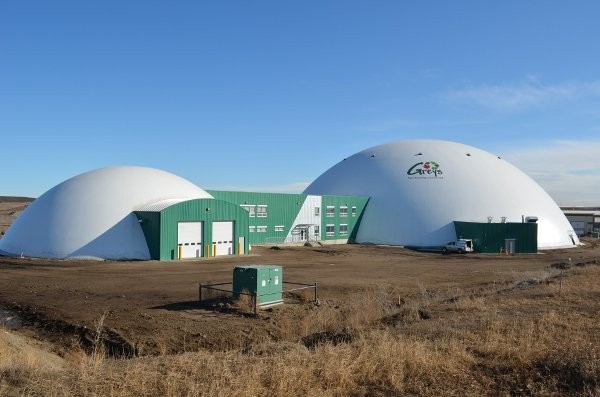 The first closed loop recycled paper products recently began rolling off the line at Greys Paper Recycling Industries LP. The company's newly built, $20 million, eco-friendly domed facility, is located on the grounds of the Edmonton Waste Management Centre, and is processing waste paper and old cotton clothes into 100-percent post-consumer recycled paper.
"These are exciting times for our City," said Mayor Stephen Mandel. "With this new facility in operation we are now able to close the loop on recycling paper products from our waste. We are proud to be working with Greys to launch their innovative processes and products here in Edmonton."
Edmonton-based Greys Paper Recycling Industries brings proprietary expertise to its partnership with the City. Initially, the company is producing five tons per day of paper – a rougher, slightly grey-coloured stock from which the company takes its name – with up to 40 tons per day production planned after the launch of a second production line (scheduled this summer).
"We are ready to start selling our unique products in the Edmonton area," says Rajan Ahluwalia, Chief Executive Officer of Greys Paper Recycling Industries. "Our process does not use any raw materials or harsh chemicals. Instead, it recycles office paper and white cotton pulp to create new, post-consumer paper products."
Construction of the facility's $20 million, two eco-friendly domes started in 2010. The City of Edmonton along with local businesses, have committed to purchase Greys' recycled products, and will be providing office paper and discarded clothing and linen for processing at the plant.
The operation has started with the production of envelopes and notepads, and other products are planned for roll-out later in the year. Greys employs 55 people but says they will need a minimum of 100 at full production. The city, which is a partner in the plant, contributed $5 million to its construction and will receive a share of the profits.