New yard, new spread
Diversified contractor turns to McCloskey for growing recycling business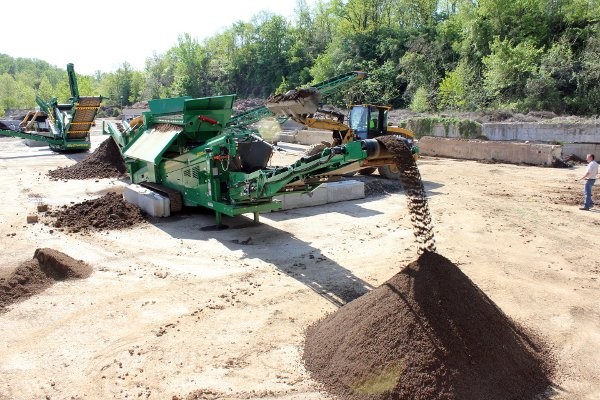 A-Jon Construction owner John Schivito was so impressed by a demonstration of McCloskey machinery, he bought a whole spread.
It wasn't just Schivito who was sold on the new equipment, but also his operations manager, Andy Murphy. As the guy who physically runs the machines on a daily basis, he knew there was a lot of potential with the equipment.
Based in Springfield in Delaware County, Pennsylvania, A-Jon Construction is primarily a ready-mix concrete company. Started in 1970, it remains family owned and operated, and recently, the company opened a new yard in nearby West Chester, Chester County. The new yard is already stocked with asphalt and concrete for recycling, topsoil to be screened, as well as a large supply of organic material for mulching.
While the company's primary business is ready-mix concrete, another big part of the business is truck rentals. This includes dump trucks – ranging from large commercial-size machines to smaller trucks that are ideal for homeowners – and sweeper/vacuum trucks for cleaning streets.
For A-Jon, recycling is a growing part of their business, which is where A-Jon's new McCloskey machines play a big role. The company recycles concrete, asphalt, rock and soil, and creates end products for sale, including topsoil, stone, gravel and modified asphalt, as well as bricks and blocks. At this point, Schivito says the potential production of their new McCloskey machines is beyond their current needs, but when the new yard gets into full swing they'll be grateful for the increased capability.
The spread
When fully operational, A-Jon's West Chester spread of equipment will include an R155 High Energy Durable Screener, a 512RET trommel screener, a I44R recirculating impact crusher, and an ST80T tracked 80-foot stacker, all manufactured by McCloskey.
It was local McCloskey dealer, Commonwealth Equipment salesman Stephen Lavery who initially sparked Schivito's interest in his new machinery. Already the owner of other brands of crushing and screening equipment, he wanted to compare the different options available.
Schivito says after Lavery showed him what McCloskey had to offer, he wanted to have a closer look at the entire line. So he flew to the company headquarters in Peterborough, Ontario for a tour of the factory, where he was introduced to company President and CEO Paschal McCloskey, a man whom he says runs a great operation.
"There's a lot of support," said Schivito. "I've seen the large parts inventory. The whole operation is impressive."
At the factory, Schivito says he was able to see high-build quality as well as high-grade branded components from reputable companies. He found the large parts inventory particularly impressive, and likes that it assures him that replacement parts aren't far away should he need anything. It was the demo, however, that really sold him on the Canadian-based manufacturer. Schivito says he watched the demo one day, bought the spread the next and is very happy with his decision.
Aside from the production and quality parts, Schivito says he appreciates the straightforward design that makes the McCloskey machines easy to maintain for tasks like changing oil. Even simple things like putting grease points in convenient locations are welcome improvements.
In operation
A-Jon's Andy Murphy shares similar appreciation for the details with respect to the new McCloskey equipment he's running at their yard. He says a lot of thought must have gone into making machines so operator friendly. When maintaining the machines, he says things like extra space around the engine and convenient access points save time, aggravation and ultimately money.
The same can be said for running the machines. Numbering the controls, he points out as an example, is a great way to make sure everything is turned on in the right order.
So far, for A-Jon, the McCloskey machines are proving more than capable. On an average day, Schivito and Murphy start by putting a couple loads of asphalt millings into the R155 screener before turning it on. Even then, their big articulated loader can't feed it fast enough. Schivito says the R155's 95 kW (127 hp) CAT engine is more than capable of handling their loads, and with its extra wide hopper, can accommodate very large loads from heavy-duty equipment.
As materials continue through A-Jon's processing, the 5-foot x 16-foot High Energy Screenbox on the R155, (equipped with a punch plate upper deck) easily pulls out oversize material and sends it to an optional extended tail conveyor, while the lower screen efficiently sorts finer material. Both Schivito and Murphy agree, their R155 screener is a high production machine capable of handling whatever needs to run through it.
Murphy adds that the tracked 512RET trommel screener is also tough for their loader to keep up with. He is able to operate the hydraulic tipping grid with a remote while operating his loader, ensuring oversize material isn't fed into the trommel drum. It's producing plenty of topsoil and is able to do so even when the weather turns wet.
According to McCloskey, the 512RET is built for efficiency. Units are equipped with a 74 kW (100 hp) diesel engine, a radial conveyor with a sweeping 180-degree radius at a height of 11 feet 8 inches, and a five-foot diameter drum screen that is 12 feet long.
At this point, at A-Jon's yard, the I44R recirculating impact crusher and ST80T have yet to see significant use, but plans are in place to start crushing and stacking at the expanded site. Schivito concludes by saying he knows he purchased high quality, high production machines and feels confident that the backing of McCloskey and Commonwealth Equipment means the service required will be there when needed.