Englobe wins Compost Council of Canada's annual pumpkin growing contest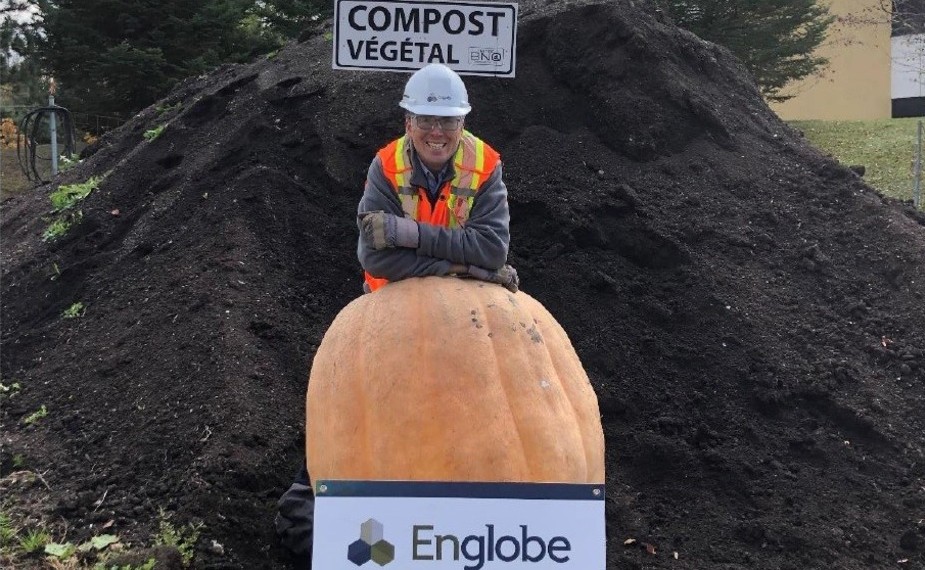 Englobe has grown this year's national winner of Compost's Giants - the annual pumpkin growing contest of Compost Council of Canada. The 230-kilogram pumpkin was grown in Englobe's garden, enriched with their CQA-compost, made from leaf and yard residuals from municipal collection programs within Quebec.
"We are proud to be the winner and receive this national recognition from our colleagues across the membership of The Compost Council of Canada," said Serge Loubier of Englobe Corp. "I know that all of us believe in the importance of excellence and producing quality compost for our soils to enrich their health and growth power. On behalf of Englobe, we extend congratulations to everyone's efforts to make compost happen for the benefit of our earth and future."
Compost's Giants is an annual "friendly-but-competitive" program within the council's membership to focus attention on the fundamental benefit of organics recycling - to return essential organic matter back to the life forces within soils, providing food and supporting the natural productivity and health of soil.
"We are delighted to congratulate Englobe on this, along with their many achievements during their 40+ years of recycling organics residuals from residential and commercial collection programs," said Susan Antler of The Compost Council of Canada. "We look forward to joining them during International Compost Awareness Week 2021 when they donate our contest's prize monies to a worthy gardening program within their community."
More from Industry News
But we've been successfully sorting paper on the front end with optical sorters since 2005. Why have we been so successful? Because we know it's not JUST about the optical. We focus on your entire operation, so you make the most of your fiber line. Is your optical sorter living up to its potential? Call us at 203-967-1100 for a free system evaluation.
Traditionally, recyclers across Canada have sent a huge percentage of their recovered scrap metal to Hamilton, Ontario, or Pennsylvania in the U.S., via open-top rail cars and truck trailers. The scrap is then melted down and turned into new steel. This is still the case for much of our scrap steel, but recently the growing trend toward containerization has introduced new opportunities for efficient, cost-effective shipping of both non-ferrous and ferrous materials to overseas markets.