Doubling down on scrap with Doosan at Mryglod Steel and Metals
Family scrap business in Saskatchewan adds third scrap handler in four years to keep up with growth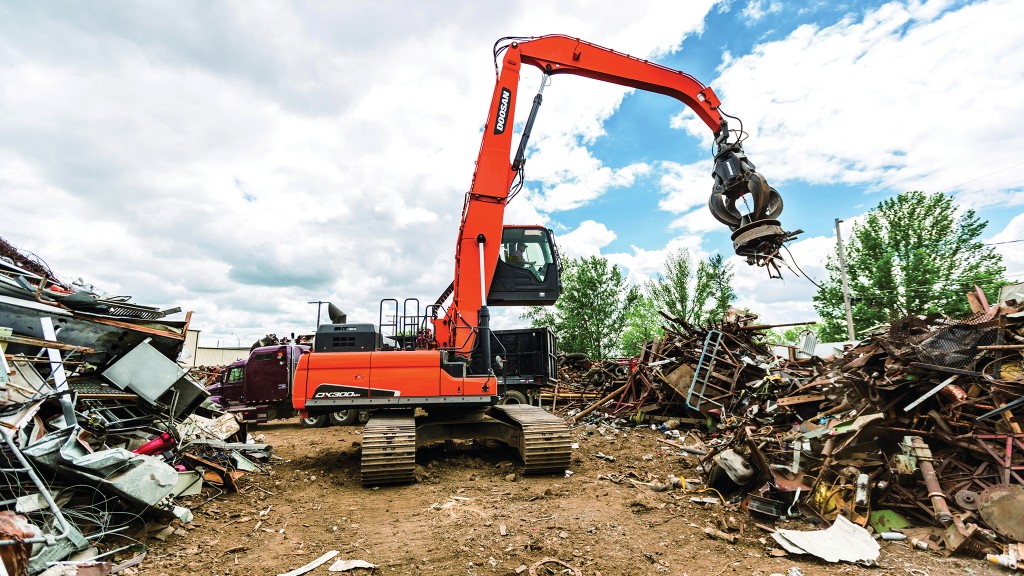 When Mryglod Steel & Metals, based in Weyburn, Saskatchewan, bought its first Doosan material handler in 2016, the family-owned business had a 10-acre yard backed up with steel, aluminum and copper. They needed to sort slews of scrap metal as efficiently as possible, and its new DX300MH-5 proved up to the task. Four years later, the business has grown significantly, and its Doosan fleet has grown with it.
Their initial purchase, a DX300MH-5 material handler from Bobcat of Regina, performed so well that the family picked up a second Doosan material handler, a DX225MH-5, in 2017. That's also when the Mryglods expanded to a second location, a 3-acre yard in Regina. Earlier this year, the business swapped out their four-year-old DX300MH-5, their first Doosan material handler, after 9,000 hours of smooth service, for a new DX300MH-5 model.

"If it didn't perform like we expected it to, I wouldn't have traded it in on a brand-new one," said Mryglod Vice President and CEO Travis Mryglod, who now owns the business with his three brothers and their mother, Sandra.
Doubled efficiency
The Mryglod family has collected scrap metal since the 1940s when Travis' great grandfather, Alex Mryglod, recycled scrap for military equipment in World War II. Today, Mryglod Steel and Metals Inc. buys metal from a range of sources, including auto yards, railroads and industrial firms. That metal gets sorted by their Doosan material handlers before being cut and shredded. It's then torched and baled for melting into new steel and products. Finally, using their material handlers again, recovered scrap is reloaded onto trucks for transportation to the steel mill.
The DX300MH-5 and DX225MH-5 play vital roles at both ends of the process, Travis says. The machines unload the aluminum, steel, lead and copper, old vehicles, appliances and other outdated machinery. Then excavators outfitted with shears aid with the processing, cutting scrap metal down to mill-ready specifications. Once ready, the material handlers then pile up the material and load it into 8-foot walled trailers or end dumps for shipping.

According to Travis, their purpose-built material handlers have given a much-needed boost to Mryglod Steel & Metals, which previously sorted using older excavators with grapple or magnet attachments. "It's, at least, doubled our efficiency, as far as loading goes," he says. "With the converted excavator, we were taking upwards of an hour, hour and a half, to load a truck. Now it's not even 25 minutes."

Doosan says that improved speed stems partly from the machines' improved reach: the DX300MH-5 has an extra 15 feet of reach compared to machines that Mryglod used prior, and also benefits from a straight boom, a droop-nose stick and a sandwiched counterweight.
Added safety for scrap
Doosan's material handlers aren't just very productive. They're safe too. With an optional hydraulically raised cab of 6.5 feet, the DX300MH-5 lets operators see clearly around them and into the loading trucks - a boon for any scrapyard with tight quarters.
"You don't need a spotter trying to tell you what holes to fill in the trailer because you can see right into the bottom," Travis says. "And same goes for unloading, where with the converted excavator, you can't get up high enough. You can't see anything. So you're just kind of grabbing at stuff and hoping for the best."

One other notable detail his team really appreciates is the Bateman generators that came with both handlers to operate the magnets. Customers can add a Bateman generator to their Doosan material handler as an option when they order a machine. "Hydraulic gensets can be finicky," Travis says, "but the Bateman system has proved very good."

"We put 9,000 hours on that 300, and the generator - not one problem." He adds that this is the same for their Doosan material handlers, with which, after years of very tough, continuous work, they have "never really had any issues."

Josh Hafner is a technical writer based in Des Moines, Iowa.
This article originally appeared in the October 2020 edition of Recycling Product News, Volume 28, Number7.