Nature and technology unite to turn food waste into odourless, fast compost
Indoor electric kitchen composter turns organic waste into homemade compost in 48 hours
When you think of recycling organic waste at home, the first things that usually come to mind are constant trips to the green bin, fruit flies, and the overwhelming odour that comes with rotting food scraps. To combat this, German start-up KALEA has created the first-of-its-kind indoor electric kitchen composter that turns organic waste into garden-ready fresh compost in just 48 hours. The device is able to process fruit and vegetable leftovers, dairy products, cooked food, coffee grounds and even small bones and nutshells.
"Organic waste comes with a few hassles," said KALEA'S Market Director, Christian Gartner. "It starts to stink, it attracts insects, and the handling is inconvenient, especially if you live in the city and have to bring it down five floors or so. Many people told us that they would like to compost their organic waste and actually turn it into something valuable, but they can't because of a lack of space or a lack of time."
Due to a lack of convenient and clean waste disposal techniques, a significant amount of organic waste is sent to landfills. Not only is this a wasted resource, but it is also more dangerous for the climate than carbon monoxide. When organic waste is dumped in a landfill, it undergoes anaerobic decomposition due to a lack of oxygen. This then generates methane gas, a potent greenhouse gas that is about 28 times more harmful than carbon dioxide when it comes to global warming.
"We knew there had to be a better solution to this problem," said Technology Lead Dr. Johannes Luschitz. "Our goal was to create a smart device that created output just as good as a compost pile, but that was faster, easier to use, hygienic, and smell free. After many iterations of research and testing we are so excited to bring our patented technology to kitchens."
Following a rise in urban gardening, the market for at-home food recyclers has grown, aiming to turn waste into fertilizer. These machines dry and grind up food waste, but no actual biological decomposition occurs. The output can grow mold and be harmful to plants.
"Kitchen waste is too wet for composting. It has too high of a water content," said Luschitz. "In the first chamber, we remove excess water by drying the waste. As soon as it has collected enough material in the first chamber, all the material is transferred to the second chamber. Here, the composting starts. After the 48 hours, we have an automatic sanitization process where the compost is heated to roughly 100 degrees Celsius. At this point, all of the microorganisms are immobilized, therefore creating a hygienic product that doesn't contain any spores which can later harm your plants."
In Germany and other countries in Central Europe, it's common for organic waste to be separated at home and sent to industrial-scale composting plants that process organic waste into compost in six to seven days for horticulture and agriculture. KALEA's tech team spoke to experts at these plants as well as with composting experts at Germany's leading research institute and optimized the process to implement it into a small kitchen appliance that requires just three steps:
Step 1: Fill KALEA with food scraps. KALEA is designed to handle the weekly organic waste volume of a typical four-person family. The shredding system processes and dries almost everything, resulting in a volume reduction of around 85 percent. When enough material accumulates, KALEA automatically processes it to the composting chamber.
Step 2: The composting chamber is full of sensors and has an intelligent control system. An ideal combination of temperature, humidity and aeration activates the natural microorganisms inside the organic material, accelerating their metabolism. Due to this, KALEA reduces composting time from several months to just 48 hours.
Step 3: The result is ready-to-use compost for plants and flowers which contains a full spectrum of essential plant nutrients. If you don't need all your compost at once, the compost can be stored for up to two years. KALEA compost is so rich in nutrients that it can be mixed in a 1:10 ratio, with one part KALEA compost for 10 parts soil.
"Usually the first question we get asked is 'what can I do with all of this compost?' A nice side effect of composting is that you have a very significant volume reduction," said Gartner. "The composting reduces the volume of organic waste by 85 to 90 percent. So for every 10 litres of organic waste, you have between one and one and a half litres of compost after the cycle. If you calculate that on an annual amount for a two person household, there will be around 15 to 20 litres. Even if you only have a little balcony with a few plants, you still have enough to spread out the compost for the whole year."
"We've also added in an additional operating mode to KALEA, where if you don't need any compost, you have the option to just dry and shred the waste," adds Luschitz.
The process is automatic and uses an activated carbon filter to make it completely odourless. In most cases, KALEA requires no addition of water or other materials and uses the heat from composting in order to be energy efficient. An automatic hygiene function ensures the compost is harmless to plants and humans, while its compact design integrates into any kitchen. KALEA also comes with an app that lets users monitor and control their KALEA, get tips on how to use their compost, learn about urban gardening, check environmental achievements, and connect with the KALEA community.
Related Articles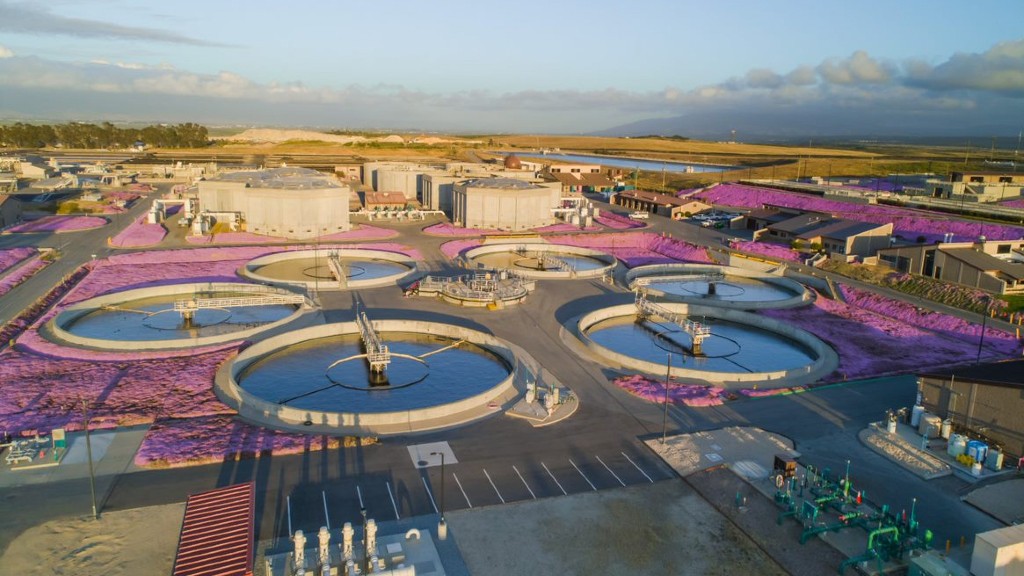 Anaergia to build modern food waste and wastewater co-digestion facility in California