Recovered paper quality certification aims to make transactions transparent for RCP sellers and buyers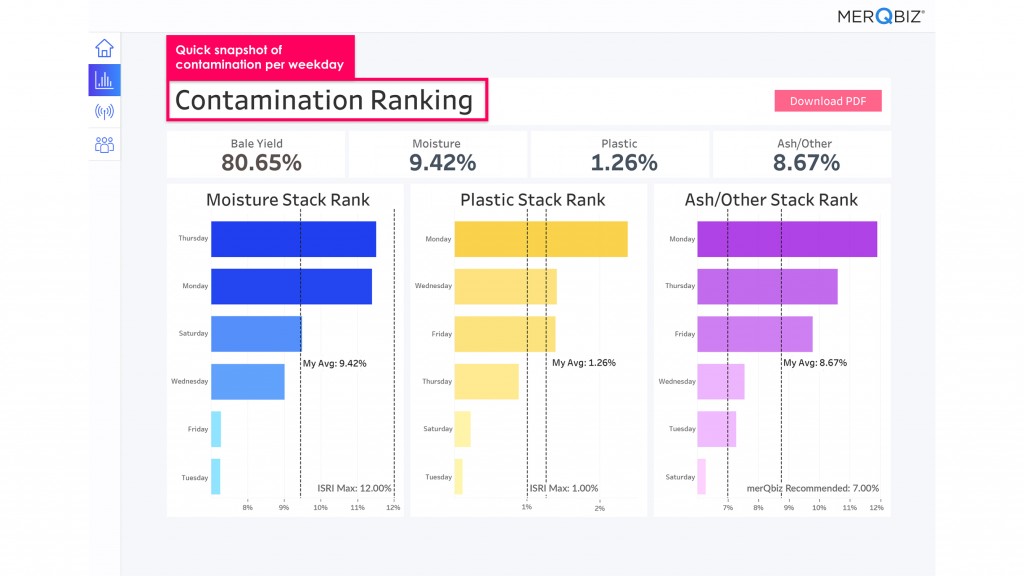 A new concept for inspecting and certifying the quality of recovered paper is proving to be a valuable tool for recyclers - giving their customers confidence in product quality and the suppliers themselves accurate data to negotiate true market pricing and successfully close transactions. The approach utilizes the BaleVision quality inspection and data analytics platform from merQbiz combined with the new BaleFacts report that provides quality certification.
Multiple recyclers are now running trials using what merQbiz calls a "Confidence in Supply" (CIS) and "Confidence in Export" (CIE) solution.
Similar to "car facts" reports used in the auto industry, a BaleFacts quality certification provides detailed data about RCP shipments based on a sample of inspected bales. The report documents the material inspection date, paper grade, shipment tonnage, bale identification numbers, content breakdown, a photo of each bale inspected, and average content breakdown of the overall shipment. BaleFacts provides mills with assurance in the quality of the material they are receiving and serves as a historical record of the transaction.
Furthermore, BaleFacts data aggregated over time - including information about the supplier's inbound materials and warehousing practices - helps sellers set pricing and leverage negotiations with buyers, as well as understand how sourcing, processing and storage practices are affecting their quality. Likewise, buyers are able to get a clear picture of supplier performance through historical data.
"BaleFacts is just one tool in our product suite aimed at giving both sellers and buyers greater confidence in supply," said John Fox, merQbiz President and CEO. "We conduct BaleVision quality inspections where our technicians measure bale quality onsite at the seller's location, or the seller can lease our inspection device to do their own quality checks. Our dedicated sales team can also connect sellers with buyers for their product in both domestic and international markets."
CIS/CIE trials underway
Early trials of the CIS and CIE programs have been well received, according to Chris Parsons, Export Director at merQbiz. In one case, a large domestic seller that sells its product to Asia was seeking greater assurance that shipments would be accepted and usable on the import side. With merQbiz's CIE program, the supplier now has objective quality data with a BaleFacts certification for each shipment.
"The report is shared via the cloud with the company's representatives in Asia who can walk into a mill and confirm buyer acceptance based on the quality before the shipment ever leaves the stateside port. That is powerful," said Parsons.
The quality certification program is applicable to small recyclers, as well as large ones. A family-owned materials recycling center in the Northeast is using the CIE solution to certify exports to a buyer in the United Arab Emirates. Certification of an initial 400-ton shipment provided product transparency, giving both seller and buyer confidence in the transaction. With a CIE program now officially in place, merQbiz will certify approximately 2,000 tons in September.
With its CIS program, merQbiz is helping to facilitate domestic transactions in addition to CIE for exports, according to Parsons. He describes a domestic mill that came to merQbiz looking to deepen its supplier base for high-quality newsprint grade. merQbiz connected the mill to a MRF that was a good fit in terms of location, grade and quality. After a successful initial trial of the CIS quality inspection and certification, the seller now has a new customer and is increasing its supply to the mill.
The merQbiz CIS and CIE programs are powered by the company's BaleVision inspection and analytics platform and its BaleFacts reports. These services are available globally for all buyers and sellers of recovered paper. As a cloud-based solution, users can quickly and easily access information via the web and share data with their trading partners securely anywhere in the world.