World's largest electric-powered, dedicated scrap handler proving itself at Turkish port
Sennebogen's 460-tonne 895E likely working in U.S. by 2021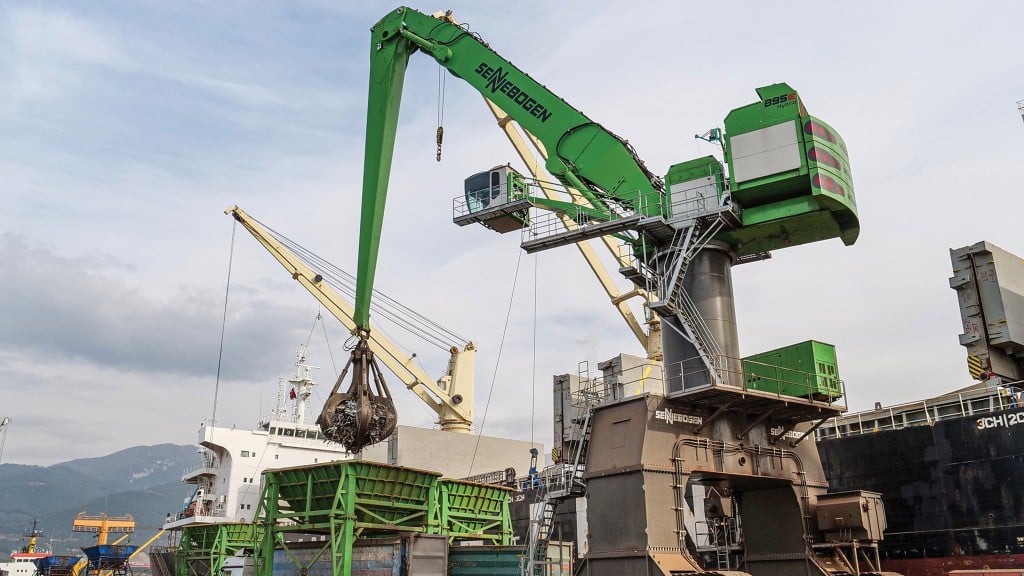 The world's largest purpose-built conventional material handler, the 460-ton SENNEBOGEN 895 E-Series Hybrid, was originally unveiled at bauma 2019 in Germany. This massive machine was commissioned in October for the Tosyali Holdings fleet, at the Mediterranean port of Iskenderun, Turkey, in one of the country's largest metal-producing regions.

Since then, the 895 has been moving massive amounts of scrap metal - around the clock, every day. Electrically powered, the machine never needs to take a break for refuelling, according to SENNEBOGEN, and as one observer noted, walking near the 895 conjures "images of Jurassic Park," where tiny humans tread lightly past peacefully grazing brontosauruses.
Coming to America
Jason Jones, SENNEBOGEN's new sales manager for the Americas, appointed earlier this year, is excited about the prospect of the 895 E for his customers in North and South America, and says the port side of the business is definitely a growing area for SENNEBOGEN. The installation in Turkey is also the first 895 E working at a port handling scrap metal, and he says it is doing very well so far in this challenging environment.
"It replaced an 880 EQ [equilibrium] machine there and they have seen a significant increase in production and efficiency, so it's been a really good application for the 895 E," comments Jones. He says as the biggest material handler in the world, the 895 E offers considerably more lifting capacity than conventional material handlers, as well as faster cycle times. Plus, these machines provide consistent uptime due to their design which is built around SENNEBOGEN's concept of providing machines that are easy to operate and maintain.

He adds, "On the material handler side, with what we now have, these machines are a real competitive advantage against larger cable cranes or equilibrium cranes, because they offer much more flexibility and versatility, and a much simpler design compared to an EQ style crane."

Worldwide, there are now three 895 E material handlers in service, two in Turkey and one in Europe, with the first one in North America scheduled for delivery in early 2021.
Productivity on a giant scale
According to SENNEBOGEN, everything about this machine is big and record-breaking. A convoy of 16 trucks transported the machine to Turkey. The company's Turkish distributor, Forsen Machinery, required just a few days to assemble its gantry-style crawler platform, configure the set-up for Tosyali, and test run the 670-hp (500 kW) drive.
Fitted with a 13-yard orange peel grapple, this material handler can reach out to 130 feet (40 m) to grab 12 tons (10,900 kg) of scrap on every bite from the holds of panamax and post-panamax ships. Its operators move quickly, perched in the highly responsive and accurate elevating Skylift cab as much as 72 feet (22 m) above ground level.

This elevated cab offers an excellent viewpoint for operators, ideal for loading and unloading bulk goods deep inside ships' hulls. Plus, cameras mounted behind and on the right-hand side of the cab provide the operator with the 360-degree view of the entire work zone, allowing safer and faster cycle and travel times. A third camera located on the business end of the stick, near the grapple, is available, providing direct view inside holds, hoppers and other conveyor equipment. In addition, the hydraulics of the 895 E allow for surprisingly quick cycle times.

"We handle 10,000,000 tons a year in this port alone," says Harun Karaarslan, Tosyali's Technical Port Director at Iskenderun. "Our machines are in constant use. We rely on our fleet to be producing constantly - downtime would be fatal."

The 895 material handler at Port of Iskenderun does not work alone. Tosyali's facility operates a total of seven material handlers, including two 600,000-pound (270,000 kg) SENNEBOGEN 880 EQ balance cranes. Both the 880s also run on electric drive. Having experience with these machines, says Karaarslan, was a big part of Tosyali's confidence in moving up to the 895.
Electrifying efficiency and energy recapture
"Our experience with SENNEBOGEN machines has shown us that using electric material handlers does not mean compromising on flexibility or speed - quite the opposite," says Karaarslan. "Despite their size, the machines cover a large work area, moving quickly up and down the pier. By not using diesel, we also save a lot of money every year."

He notes further savings and maintenance costs, with longer service intervals and less wear on service parts than conventional diesel material handlers.

One would also expect a significant energy cost simply to move the 895's huge lifting boom and stick - itself a 53-ton steel structure. But here again, the efficiency of the 895 is impressive according to SENNEBOGEN. Key to this efficiency is the distinctive Green Hybrid energy re-capture system engineered into the 895's boom hydraulics. A pair of large hydraulic cylinders are mounted to either side of the main lifting cylinders. On each downstroke of the boom, the Green Hybrid cylinders hydraulically compress the gas in the storage modules at the rear of the upper carriage. On the next lift cycle, the compressed gas is released to give the lift cylinders a power assist, effectively offsetting the boom's own weight, much as a compressed spring generates energy when it's released.

As a result, SENNEBOGEN says the 895 E re-capture system saves up to 55 percent of the energy for every lift, all day long. At the port of Iskenderun, Turkey, that is a lot of lifts.
Related Articles
Traditionally, waste management companies have operated using a simple "management of waste" approach to operating a MRF. Throughput targets and continuous operation (minimal downtime) were the main driving forces. The industry has changed however, and the focus moving forward is now on optimizing system performance and reliability, in conjunction with increasing recycling rates and a drive for a "greener" and more sustainable tomorrow.
When considering the addition of, or upgrade to, an "intelligent" MRF, for municipalities or private operators, the main factors should always be the client's (operator) current requirements, and evolving market needs, which include throughput, reliability, output quality, and adaptability. Equally important is a full understanding of what is really expected from any proposed system. Having an engaged and focused mindset for the project with the client from the beginning, will impact and drive the entire design process. This then impacts the overall project result, through to the productive, efficient, ongoing operation of the facility itself.