Growing scrap volumes justify addition of auto shredder for DMS Metals
Cover story: New shredder and nonferrous system added to keep up with the ever-increasing amount of incoming scrap in the GTA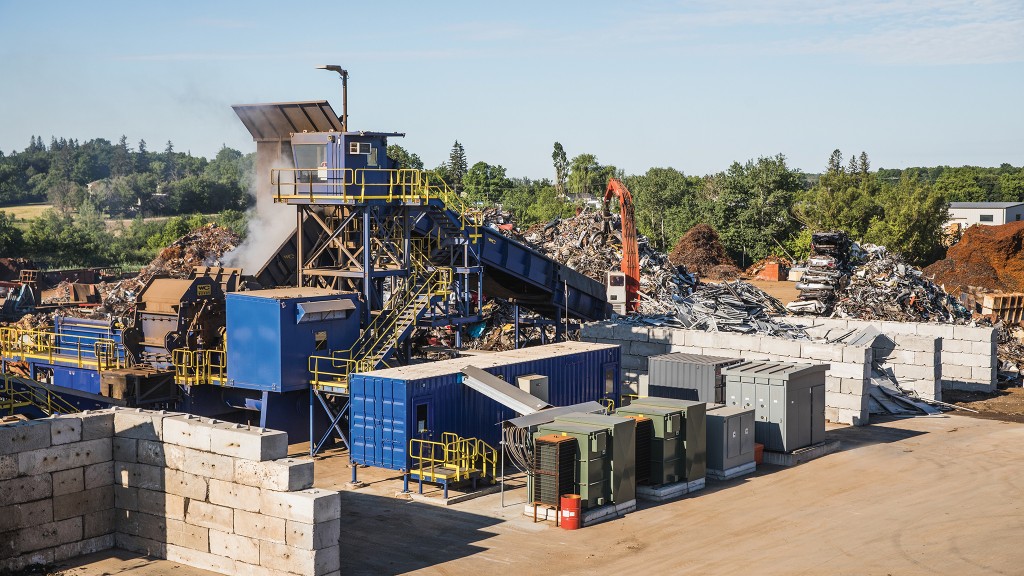 Over the last few years, Ontario-based DMS Metals, a second-generation family-run scrap metal and auto recycler under the ownership of Andrew and Paul Gallo, has experienced enough of an increase in volumes to justify two very significant equipment and capability upgrades.
This past March, DMS Metals (established in 1974 as Don Mills Steel and Metals Ltd.), located in Stouffville, Ontario, near Toronto, installed a new non-ferrous system as well their first automobile shredder. President Andrew Gallo says, in addition to their shears and balers on site, their new WENDT M6090 modular shredding plant and upgraded non-ferrous processing capabilities provide the company with additional versatility and independence while aiding in their overall growth strategy.

"As our business started to grow and our volumes increased we were having trouble placing all of our tons competitively at the local shredders, so we felt a need to become more self-sufficient," explains Gallo. "Also, given that we are at the doorstep of a growing city such as Toronto we are starting to see an increase in the amount of consumable [shreddable] scrap that we receive, which made the idea of a shredder even more attractive."

Processing primarily cars, light sheet iron and aluminum products, he says their new shredder has already benefitted the company by allowing them to be more versatile and competitive on both the buying and selling sides of the business. Additionally, since commissioning the shredding plant and non-ferrous system, DMS Metals has added 10 people to their team.
The WENDT M6090 automobile shredder uses a Bowe Disc Rotor and 2,500-hp motor, and is equipped with an infeed conveyor and dual magstand with electromagnetic drums. The plant's modular design also features a pre-fabricated motor enclosure and platform, remote, pre-wired e-house, control pulpit, pre-fabricated fluid power house, and structural steel frame that allows the shredder to be installed on a flat concrete pad.
"The WENDT M6090 was right-sized for our operation and provides us the versatility to process many different grades of material and at much higher volumes," says Gallo, adding that their purchase this year also included a non-ferrous recovery system using eddy current separators to recover aluminum (Zorba). This is a part of the business they plan to continue to expand on.

"A shredding plant without a non-ferrous system is like a car with no wheels," comments Gallo. "It is a good start, but it won't get you very far. The non-ferrous system heavily contributes to the profitability of our overall process.
"A shredder is a unique piece of machinery," he continues. "When purchasing equipment of this magnitude, you are diving into a long-term partnership with the company that you purchase it from. WENDT's service department is available 24-7 and is always extremely helpful and professional. It reflects their attentiveness to customer service and reaffirms the confidence we've placed in partnering with WENDT."

With respect to technical support, Gallo says there have been numerous occasions where WENDT accessed their machine remotely to help troubleshoot minor issues confronted. "We also find that the mill design allows for easy access which makes it easier to flip and switch hammers, particularly because of the pin puller mechanism," he says.

"WENDT's M6090 Shredder is a state-of-the-art machine that has exceeded all of our expectations. We have met all of our production targets so far and are looking forward to learning more about the machine and further developing production efficiencies." RPN
This article originally appeared as the Cover Story in the September 2020 edition of Recycling Product News, Volume 28, Number 6.
More from Metals Recycling
But we've been successfully sorting paper on the front end with optical sorters since 2005. Why have we been so successful? Because we know it's not JUST about the optical. We focus on your entire operation, so you make the most of your fiber line. Is your optical sorter living up to its potential? Call us at 203-967-1100 for a free system evaluation.
Traditionally, recyclers across Canada have sent a huge percentage of their recovered scrap metal to Hamilton, Ontario, or Pennsylvania in the U.S., via open-top rail cars and truck trailers. The scrap is then melted down and turned into new steel. This is still the case for much of our scrap steel, but recently the growing trend toward containerization has introduced new opportunities for efficient, cost-effective shipping of both non-ferrous and ferrous materials to overseas markets.