Waste Management opens $1.5 million facility in Fort Pierce
Transfer Station grand opening marks move to single stream recycling with carts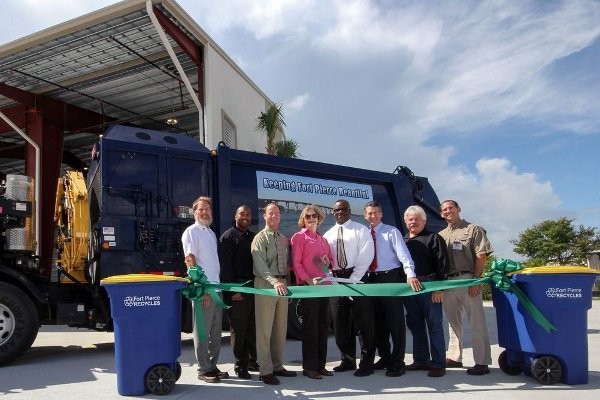 On July 16 Waste Management hosted a "First Truck" ceremony to mark the opening of its new $1.5-million Fort Pierce Transfer Station, and the start of a new single-stream recycling program for City of Fort Pierce, Florida.
City officials joined in the festivities to kickoff off the new Single-Stream Cart recycling program. In the weeks leading up to the grand opening, more than 5,000, 64-gallon blue carts on wheels were delivered to Fort Pierce households to expand recycling capacity and collection.
"Our new cart recycling program gives residents expanded capacity to recycle more household items, keeping trash out of our landfills and improving the environment," said Fort Pierce Mayor Linda Hudson. "The City of Fort Pierce is pleased to mark this expanded recycling program as well as the opening of the new transfer station."
The Waste Management Fort Pierce Transfer Station can accept up to 150 tons of municipal solid waste, construction and demolition debris, recyclables and bulk materials for sorting and transfer.
"Waste Management has made a major investment in our partnership with the City of Fort Pierce and looks forward to serving the city's waste and recycling needs for many years to come," said Jeff Sabin, WM government affairs manager. "The facility adds four full-time jobs to the local economy and will help us manage the additional recyclables that will be generated from the new cart program."
Waste Management's Senior District Manager Tony Bishop will manage the new facility. Richard K. Davis Construction of Fort Pierce was the general contractor for the project which employed approximately 10 workers during the construction phase.
"Residents currently recycle about 15 percent of their waste, and our goal is to increase that to 45 percent with the new carts," added Hudson.
Residents can put all recyclables into the blue carts including cardboard, newspapers, mixed paper, boxboard and paper cartons, plastic bottles and containers, steel and aluminum cans, and glass bottles and jars. The recyclables will be processed at Waste Management's Reuter Recycling Facility in Pembroke Pines. The city's remaining waste will be transported to Waste Management's Okeechobee Landfill for disposal.