Food wrappers top list in international coastal cleanup, surpassing cigarette butts for first time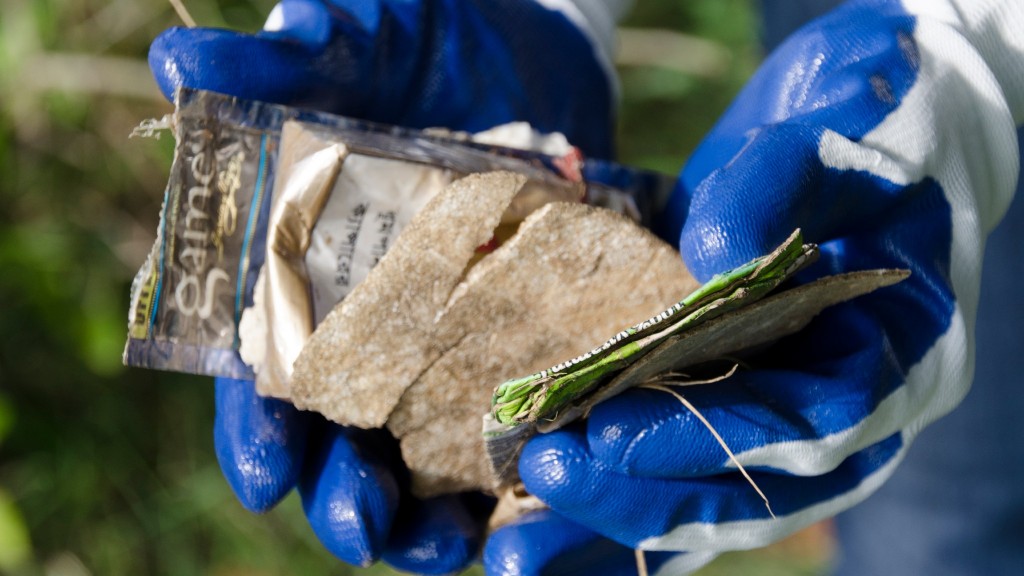 Ocean Conservancy released the results of the 2019 International Coastal Cleanup (ICC), revealing that for the first time in ICC history, cigarette butts were displaced as the number-one-reported item along beaches and waterways worldwide. Instead, food wrappers topped the list, with 943,195 volunteers removing a record 4,771,602 food wrappers in a single day.
Food wrappers - a category consisting of chip bags, candy wrappers, drink pouches and similar flexible packaging - are usually made of plastics. Because they are often low-density and composed of multiple layers of plastics and other materials, these items are effectively unrecyclable.
A 2017 study calculated that nearly 45% of all plastic production in Europe, the U.S., China and India between 2002 and 2014 went toward packaging, compared with less than 19% for the next-largest use category (building and construction). The Environmental Protection Agency reports that just 13% of plastic containers and packaging were recycled in the U.S. in 2017 - the lowest recycling rate among all container and packaging types. That same year, plastics swept the ICC top-10 list for the first time, with all but two item categories (cigarette butts and straws and stirrers) relating to packaging.
"In the early days of the ICC, volunteers were finding glass bottles, metal cans, paper bags, and other items that have increasingly been replaced by plastic alternatives," said Allison Schutes, director of Ocean Conservancy's International Coastal Cleanup. "As a result, more and more food-related plastics are ending up in our environment, where they persist and threaten wildlife indefinitely."
Food wrappers are uniquely challenging from an environmental stewardship perspective because they are difficult, if not impossible, to recycle, and yet there are few comparable alternatives.
"We can recycle plastic bottles, we can bring our own bags to the supermarket, and many of us can even skip the plastic straw altogether; but when it comes to keeping food fresh, safe, and accessible, manufacturers have put most of their research and development energy into disposable plastics," said Nick Mallos, senior director of Ocean Conservancy's Trash Free Seas® program. "We need food science and packaging experts to accelerate research and development of packaging that isn't destined for landfills, and that keeps both people and our ocean safe and healthy."
In all, 943,195 volunteers in 116 countries collected nearly 32.5 million pieces of trash, including 4.2 million cigarette butts (which contain plastic filters); 1.9 million plastic beverage bottles; 1.5 million plastic bottle caps; and 942,992 straws and stirrers. In total, volunteers removed 20.8 million pounds (or 9.4 million kilograms) of trash during last year's ICC.
With these latest results, more than 16.5 million volunteers have collected more than 344.6 million pounds of trash from beaches and waterways worldwide since 1986, when Ocean Conservancy first mobilized the annual ICC.
The findings were revealed to coincide with the 35th anniversary of the ICC, usually held the third Saturday in September. With the COVID-19 pandemic still prevalent in many parts of the world, Ocean Conservancy has taken a different approach this year, encouraging ICC coordinators and volunteers to #CleanOn by adopting waste reduction measures at home or participating in solo or small-group cleanups.
"The ICC is about community and collective action, and we - and the ocean - need that now more than ever," said Schutes. "That's why we are recommending that volunteers work 'together, apart,' through individual or small-group cleanups as well as at-home initiatives that help keep trash and plastics out of our ocean."
In addition to cleaning beaches and waterways, ICC volunteers contribute to the world's largest database on marine debris by logging each trash item on a paper data card or into Ocean Conservancy's award-nominated Clean Swell mobile app. Scientists, researchers, industry leaders and policymakers rely on Ocean Conservancy's Ocean Trash Index to inform policy and determine solutions to the growing ocean plastic pollution crisis. An estimated 11 million metric tons of plastic waste flows into the ocean annually, impacting more than 800 animal species.